If you want to try and become a United States Centurion this is the Centurion Qualifier for 2018.  The FANS 24 hour in Minneapolis, Minnesota USA.  June 2nd – 3rd.
Event website below.
http://www.fans24hour.org/index.html
Sign up for the 24 hour walk Here.
I Have signed up for the 24 Hour walk at FANS 2018. Who's signed up. Ready to return to the site of My first Centurion. See old friends and make new ones. Any questions about the race. Any assistance I can provide especially to our Overseas competitors contact me Here. Hope to see you there.
FANS Milage Chart Large Version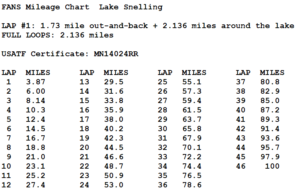 **************************************************************
Six walkers have become United States Centurion's at FANS since the race was moved to Lake Snelling. I am one of those six. Only a few miles from the international airport in Minneapolis. Several nice hotels a couple of miles away.  I enjoyed the course. The race starts with an out and back. After that each loop is 2.14 miles around the lake. About half in the shade. The back side is packed dirt and gravel. I wish I had worn gaiters. There are some very small rocks. Mostly flat with a gentle rise and a sharp short drop down. You will need a light for the overnight part of the race. FANS is a very well supported race. Two drink tables. A large food table. You will share the course with runners. The two mile loop is far from crowded. When I raced there in 2015 there was a changing tent for out of town racers. Also a place to store racing bags. Portable restrooms right beside the course. Just off the course is a restroom building with a few open air showers. There is a mandatory weigh-in every four hours. This did not impact my race. You will need to eat and drink during the race. Weigh-in only took seconds each time. A large breakfast is served post race before the awards. While not the easiest Centurion course I have raced. FANS is very doable as a United States Centurion Qualifier.