The following United States Centurion History was made possible by Ulli Kamm. Ulli kept all these records and articles. Ulli gratuitously gifted all of this to me.  Thank You Ulli.
The Centurion Poem by United States Centurion C13 Bob Chapin.
Never has anyone put pen to paper with a better understanding of a Centurion walk than Bob has here.  Large Version of Bob's Centurion Poem.  Thank You Centurion C13.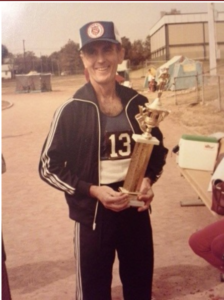 Bob Chapin
*******************************************************************************
2017 United States Centurion Qualifier Owego, New York. September 23 – 24th.
NEW  United States Centurion C88 Dave Talcott  18:53:10
Centurion C82 Christer Svensson 21:49:09
Twelve walkers started the U.S. Centurion qualifier on a VERY hot upstate New York Day. Those present were privileged to witness one of the fastest Centurion walks in decades. Dave Talcott walked a dandy. Christer Svensson returned to the U.S. To walk another 100 miles after last years Centurion title. Only Two Walkers were able to beat the heat and cross that 100 mile line. Dave and Erin Talcott have hosted another classic Centurion Qualifier.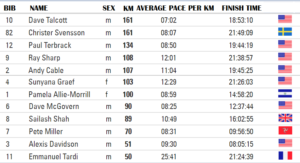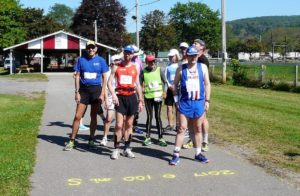 photo by Emmanuel Tardi
 photo by Emmanuel Tardi
New United States Centurion C88 Dave Talcott with his wife Erin. United States Centurion C85.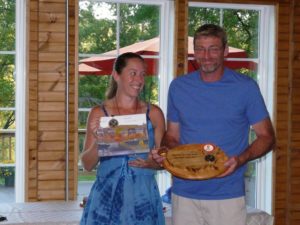 photo by Emmanuel Tardi
---
2017 F.A.N.S. 24 Hour United States Centurion Qualifier
In any 24 hour race the one variable no one has any control over is the weather. This years race it was heat and humidity. As a result the attrition rate was high. Not just for walkers but the runners suffered also. Despite the heat several walkers added up some respectable mileage.
John Greene 75.6 Miles
Yolanda Holder 71.6 Miles
Radek Lopusnik 63.7 Miles
This was United States Centurion C70 John Greene's Seventh time to walk the 24 Hour race at F.A.N.S. It was his Fifth Win.  Congratulations John.
Left to Right. Radek, Yolanda, John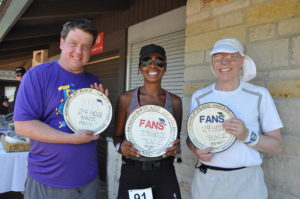 photo by Betty Greene
---
2016 Centurion Qualifier. Owego, New York. September 24 -25th. Hosted by Dave & Erin Talcott
Excellent Race review by Tim Erickson
Erin and Dave Talcott should be justifiably proud of their efforts of last weekend, with the international 24 hour walking carnival they hosted in Owega, New York State. The race started at midday on Saturday and was held over a certified 1km loop, finishing exactly 24 hours later at midday on Sunday. The aim as always in such a race was to provide an opportunity for people to walk 100 miles in 24 hours and become US Centurions. Only 80 people had accomplished that until last weekend and a big field of 25 was in attendance from around the world – 5 from Belgium, 2 from the Netherlands, 1 from Sweden, 1 from Australia, 2 from the Isle of Man, and 1 from England. The results were excellent with the top 8 walkers all reaching the 100 mile (160.934km) mark and 7 new US Centurions C81-87. Overall, Belgian walker Eddie Goeman walked brilliantly to reach the 100 mile mark first in 19:16:50, ahead of Swedish walker Christer Svensson with 20:14:50 and Manxman Stewart Jones with 21:53.32. Caroline Mestdagh was the first of the ladies with 22:46:28, Erin Taylor-Talcott was second in 23:31:05 and Sandra de Graaff was third in 23:45:12 (walking nearly the whole way with Albertus van Ginkel as usual – Bertus finished about 3 mins behind her with 23:48:17). Belgian walker Luc Soeteway also finished the hundred, recording a time of 23:06:23. Alas, Australian centurion John Kilmartin suffered on the day and had to be satisfied with 92km. For Erin, it was her first centurion finish in her 3 attempt (what a wonderful effort) but the other 7 finishers were all quite experienced. Caroline Mestdagh lead the group with 5 badges already. Eddie Goeman, Bertus van Ginkel and Sandra de Graff had 3 badges already and won their 4th with their weekend walks. Christer Svensson won his third badge as did Luc Soeteway while Stewart Jones won his second.
Of the men, Christer Svensson had led early but lost his lead to a storming Eddie Goeman who recorded a huge PB in winning. Of the women, Erin Talcott lead for most of the race, eventually relinquishing her lead to Caroline Mestdagh after 135km. The overall results read as follows:
1. Eddie Goeman Belgium 19:16:50 New US Centurion #81
2. Christer Svensson Sweden 20:14:50 New US Centurion #82
3. Stewart Jones Isle of Man 21:53:52 New US Centurion #83
4. Caroline Mestdagh Belgium 22:46:28 US Centurion #72 (2010)
5. Luc Soetewey Belgium 23:06:23 New US Centurion #84
6. Erin Taylor-Talcott USA 23:31:05 New US Centurion #85
7. Sandra de Graaff Netherlands 23:45:12 New US Centurion #86
8. Albertus van Ginkel Netherlands 23:48:17 New US Centurion #87
9. Paul Terbrack Michigan 153 km
10. Bob Keating New Hampshire 122 km
11. Willy Vermeulen Belgium 117 km
12. James Bassett Isle of Man 107 km
13. John Kilmartin Australia 92 km
14. Sunyana Graef USA 89 km
15. Patrick Bivona New Jersey 81 km
16. Vince Mueller New Jersey 81 km
17. Sailash Shah England 80 km
18. Andy Cable USA 66 km
19. Luc Dekeirsschieler Belgium 62 km
20. Katie Smith Michigan 32 km
21. Ron Salvio New Jersey 31 km
22. James Lyons New York 28 km
23. Kevin Nelson New York 20 km
24. Jeanne Cooke New York 5 km
United States Centurion Ivo Majetic made this Graph of the Owego Centurion Race. There are Several pacing paths toward a Centurion Race. Some start fast and hold their pace. Some start fast and just try and hang on to the finish. Some start slow and just walk a steady pace. Here you can see each racers path and the end result.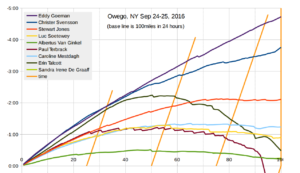 Enlarge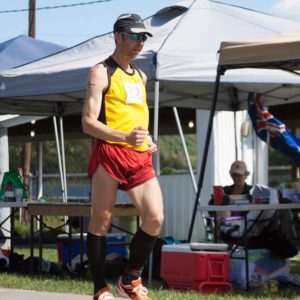 Eddie Goeman                                                                           Christer Svensson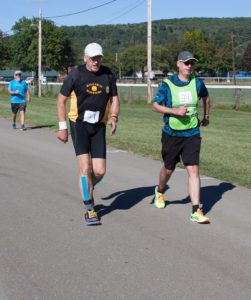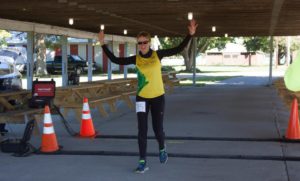 John Kilmartin & Stewart Jones                                  Caroline Mestdagh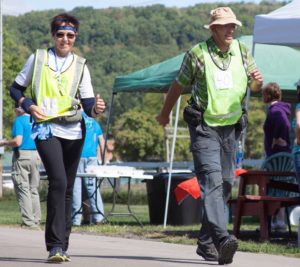 Erin Talcott                                                                     Sandra de Graaff & Albertus van Ginkel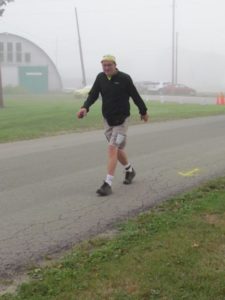 Luc Soetewey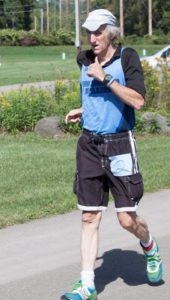 United States Centurion Bob Keating C35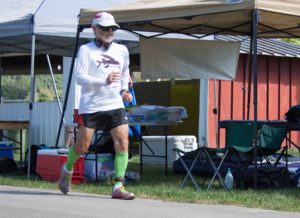 United States Centurion Pat Bivona C58
Race Report by New Centurion Erin Talcott
US Centurion #85 will forever and for always belong to me!!!!
All the competitors ready for an awesome race!
I have been so negligent in writing a blog post lately, but things have been insane!  A trip to Iceland including racing a marathon and exploring the country for a week, another training marathon, a concert weekend, and all the last minute planning/organizing for the event we hosted:  Not Just a Walk in the Park – a 100 mile Centurion race.  I'll probably write a blog later on Iceland, but for right now I want to share my excitement about the race last weekend!
Starting off nice and strong with Katie doing her workout.
For those of you who don't know what a Centurion race is, let me explain.  You have 24 hours to walk 100 miles.  If you accomplish this feat you are put on the US Centurion list (assuming you do it in the US of course, otherwise there are other countries that keep lists that you can get on) and get a number.  This becomes your Centurion number forever and for always.  Before the race only 80 people had ever finished 100 miles in under 24 hours on US soil, so we were hoping to put on a top-notch event so we could grow that number.
Thank goodness for the sponge station!
We've been working with the Town of Owego and local businesses.  We've been planning, organizing and working on this event for almost two years.  Last week was full of stress, last minute things, and many trips to pick up supplies.  But finally it was race day!
Dave played full time race director so I could race.  Not only was it our 100 mile Centurion race but also the Eastern Regional and Niagara association 100K championships.  I was entered in that, so I had to race walk the first 100K as it was judged under USATF rules.  The athletes entered in only the 100 mile were only subject to the lifting rule, not the knee rule.
The weather started off perfect, in the mid 60s.  It did get a little sunny for a while, so the sponge station got used.  Everyone started off great and solid, but when you're racing for 24 hours the beginning better feel easy!  Katie Smith and her hubby had come the week before the race and Katie did her long workout with me, so I had company for the first 30K which was wonderful.  I was on a solid pace and feeling good.
Still smiling!
I was doing well with eating and drinking (which I did not do my first 100 mile attempt) and staying hydrated.  I was hoping to make it past 100K before taking a potty break, but alas I had to stop at 81K for a tinkle.  After going for almost 10 hours, I stopped pretty sudden and almost fell over.  Lesson learned!  Decelerate before stopping!
Having to keep my legs straight for 100K was pretty hard.  The last 10K was not very fun, and boy, oh boy, once I hit 100K was I super happy to bend my knees and walk however I wanted!  My 100K time was slower than I did in the Isle of Man, but I had wanted to pace myself better, so I think I accomplished that.  Also, on the Isle of Man I didn't take the potty breaks that I did this time, so that ate up some time.  All in all I'm happy with how my 100K went.  There was one section I picked up the pace a little, about 10-15 seconds per K, probably shouldn't have done that, so that's another lesson learned for next time.
A week ago in Owego it was a high of almost 86 and humid.  We were so lucky that the weather broke, but unfortunately it got really cold at night, down to almost freezing.  I packed clothes to layer in, but not enough.  Thankfully Dave brought some extra clothes and I ended up wearing almost all of them.  I had five thick layers on my top at one point and was still shivering.  I wasn't moving fast enough to produce much body heat of my own, and if I had to stop for whatever reason I would start to shiver even more.  Then it would take me a few laps to warm up again.
Foggy morning after a cold night.
The night hours between about 2 AM and 6 AM were pretty rough.  I was so tired and just wanted a rest.  A few times I think I fell asleep a little while on my feet, but I stayed upright and didn't wander off the course, so that's pretty good.  Every so often I would match up with some competitors and walk with them for a while, so that was nice.  I told myself before the race to just keep heading towards the light…. Wait til dawn and you'll get re-energized.  It was absolutely true!  Once the sun came up I got a burst of energy and was able to wake up a bit and pick up the pace.  The other downside of the night hours was that I sort of forgot to push myself to eat.  Definitely another area I can improve for next time!
Still bundled up and trying to keep warm.
With 20K to go, and about 3 hours of walking left, I started getting some blisters on the pads of my feet, deep under the skin.  We popped one of them but not the other.  They both were a bit painful, but really nothing too bad.  But as I was trying to do math after about 19 hours of walking I all of a sudden freaked out that I wasn't going to make the time and I took off, dropping about 2 minutes per K off my pace.  I was in second place for the women.  I knew I couldn't catch Caroline, she's just too amazing, and I thought I had a pretty decent cushion in front of third, so I did some thinking about recovery, other goals I have, training, and made the decision to just make sure I got it done.  So the last 8K or so I just enjoyed the walk.  Some of my friends came and walked with me to the end (totally legal in a Centurion race).  They helped keep me entertained and my mind off my poor, sore body.
Holy cow!  I did it!  Centurion #85!
So after 23 hours 31 minutes and 05 seconds I became Centurion 85!!!!  The 11th woman to be on the US Centurion list!  I still think it hasn't entirely hit me.   Three days later the blisters have basically healed and I have just a bit of soreness left in my legs.  I haven't slept well the last few nights, so I'm still pretty tired, but for having walked 100 miles I'm really happy with how my body held up.
Thanks to USATF Niagara for their help and support!
I definitely have room for improvement for the next time (and yes, there will be a next time!  I want to be on the other Centurion lists!) and think it's possible for me to break 22 hours.  I didn't do a great job of eating during the dead of night, so I'm sure I lost some energy there that affected me the last hours of the race.  Also since it got so cold making sure I stay even warmer and drank some warm liquids so I don't use so much energy just staying warm.  And of course not having to purely race walk for the first 100k and take some breaks from race walking I think really would've helped.
The newly crowned US Centurions!
Yesterday I went for a nice easy stroll with Dave up the road and for kicks I thought I'd see if I could race walk.  I only went for about 30 meters, but I actually had a decent amount of pep in my step.  I'm not going to start training, of course, but I might jump on the elliptical soon.  Tomorrow I'll start stretching.
Everyone who made Centurion.
So now that I can cross that goal off my list it's time to get back to 50K business!  I'll be looking for when there's another Centurion event that fits into my training/racing schedule.  It may take a while but I'm determined to get on all the Centurion lists!
So I'm off to rest and refuel.  Happy training!
******************
2016: 24 Hour Walk Results FANS Lake Snelling, Minnesota
Radek Lopunsnik 80.8 Miles
Jerome Young 70.1
Ray Sharp 53.0
Ollie Nanyes 38.3
Robert Schnetzier 38.0
Bruce Leasure 27.4 JUDGE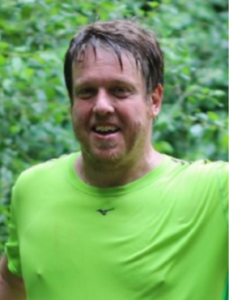 Radek Lopunsnik. Centurion 2017 ???
************************************************************************
2015: 24 Hour Walk Results FANS Lake Snelling, Minnesota
Justin Scholz 105.7 Miles NEW U.S. Centurion 76
Sharon Scholz 105.7 NEW U.S. Centurion 77
Jantinus Meints 100.5 NEW U.S. Centurion 80
Antoine Hunting 100.0 NEW U.S. Centurion 79
Rob Robertson 100.0 NEW U.S. Centurion 78
Jeff Hagen 82.5
David Daubert 74.5
Barb Bengtson 63.7
Ollie Nanyes 59.9
Haley Bengtson 50.9
Barb Curnow 40.2
Bruce Leasure 33.8 JUDGE
John Schneider 32.1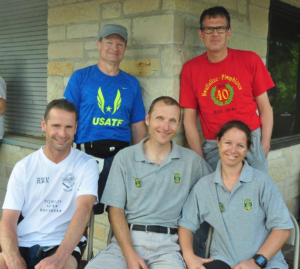 New United States Centurion's Bottom from Left:  Antoine Hunting, Justin Scholz, Sharon Scholz. Top from Left: Rob Robertson, Jantinus Meints.
USA Centurion Report Jantinus Meints
Finally it was June 6 and I could join the FANS Ultra in Minneapolis. Last year I enrolled also but I had to opt out at the last minute. In hindsight that was not too bad since the weather in 2014 wasn't the best. Also this year I wasn't the only Dutchman, Antoine Hunting had
the same bold plan to become US Centurion.
On the Friday afternoon before FANS, Antoine and I took a taxi to the pre-race pasta meal, a meal served by the young people who get a scholarship thanks to FANS. The taxi ride was an adventure in itself but eventually we arrived. We met the organization, got our goody bag including a nice T-shirt, spoke with some participants, mostly runners, and enjoyed the good food. After the meal we opted for a short walk to the light rail since we learned that taxis aren't part of the normal entourage in that particular part of Minneapolis. By now it was clear to us that the weather for Saturday promised nothing good: dry and sunny at the 8 AM start, at 2 PM it would start to rain and from midnight until 6 AM thunderstorms and the last 2 hours would be dry again. And in case of thunderstorms the race would be paused, but the clock wouldn't stop!
Saturday morning began with setbacks: the spectacle box with my sport glasses was empty; apparently I left them at home. Moments later my GPS watch died and in the early morning I lacked the ingenuity to revive it. So I left early with my regular glasses and no watch. Around 7 AM Antoine and myself arrived at the start, a bit shaky since it was a bit cold. Fort Snelling State Park would be a restful park with a lovely lake when planes were not continuously landing and taking off, the park is just next to Minneapolis airport. The organization was building up their tents and equipment and volunteers were arriving. We started with the weigh in, an important activity since during the race participants are weighted every 4 hours. In case you lose too much weight you need to pause and eat / drink until you are back at a weight that the medical staff requires. We are not used to this in The Netherlands but this care and attention seems very sensible. Next we stored our bags in the "Tent for the Tentless" to shelter them from the predicted rain. Meanwhile we got acquainted with the volunteers like the lap counters who record our time, with Betty Green who photographs exclusively the walkers, her husband John (a USA Centurion who won the 12 hours of this edition) and 3 other walkers with USA Centurion ambitions: an Australian couple, Justin and Sharon Scholz and Rob Robertson from Oklahoma.
Shortly before eight the starting signal was given and as expected the runners sprinted away. The walk is around Snelling Lake, first on asphalt and it soon unpaved dirt road with a fair amount of loose rumble etc. A beautiful trail along the edges of Snelling Lake and partly overlooking the Minnesota River. The description was: parts paved and unpaved, we quickly assessed that the ratio was probably close to 60:40 or even 50:50. Also a large portion of the unpaved trail has a gradual ascent while the asphalt portion included a short but very steep descent, you had put on the brake to avoid starting to run. All in all a tough and challenging trail.
The start when well, quickly found a good rhythm and with an average of about 5 miles I was leading the group with Centurion ambitions. It wasn't raining, just the opposite: pretty hot and humid. After 6 hours I started to feel my feet. Since I had never experienced this before I stopped to adjust my shoelaces. Back on the track it was a lot more pleasant. After a little while my abs decided they needed some attention. The discomfort only decreased with a strolling pace but since that wasn't sustainable I decided to stop so my abs could get some rest. After half an hour I got back on the track: not only was my abs pain gone but also walking rhythm, I simply couldn't get back to a decent and comfortable speed. My morale did improve when the lap counter 2 laps in a row shouted: "1 more for 50 miles" while at the 2nd pass apologizing for his error in the previous lap. Every drink became an excuse to sit down, which didn't help me to develop a decent average speed. Next my lower back became very painful so once more I decided to pause once more. The race director saw me lying and she convinced me to have a massage. It was a very uncomfortable massage but when I finally went back on the road I felt a bit better.
However, FANS Ultra is not only a lament, there is also much to see, not just fellow walkers / runners in exciting outfits and a pretty big tent village where people always cheer you on, but also 2-3 women who pushed a disabled young man in an oversized buggy for 24 hours on the tough course: deep respect! And also beautiful views on Snelling Lake and the Minnesota River and animals like squirrels and an otter which crossed 20 yards ahead of me while it was in transit from Snelling Lake tor the Minnesota River. A spectacular view in the evening twilight were 3 deer in the bushes who observed us (with amazement) from nearby. Meanwhile my calculations had taught me that even at an average 2 rounds per hour (approx. 4.3 miles) I only had a margin of 10-15 minutes to finish the 100 miles in 24 hours. But I wasn't going at 4.3 miles, I had to increase the speed to meet my goal.
At midnight (16 hours on the road) it started to rain. First a few drops and then it washed when I got to the unpaved section, which quickly became a slippery mess. At the start / finish mark I decided to sacrifice some time for a dry shirt and a rain jacket. The Tent for the Tentless was
already crowded. The 4-person tent wasn't top quality, the floods of water on the roof were leaking through. When I finally changed into dry shirt the rain lessened, so I returned quickly on the road and to be on the safe site I took a rain cape with me. All along the track large, and
sometimes deep, puddles of water which were unavoidable. The unpaved section had turned into an obstacle course, there were trenches flushed out across the track. In the dark, it was likely you stumble. This happened to Antoine but fortunately he was not injured.
Although I was 2-3 laps behind to the other aspiring Centurions, the rain seemed to be a blessing in disguise for me. I got back into a great pace and my body felt well probably the air was much richer of oxygen. Each lap took much less than half an hour and with a pace well above 4.5 miles and I started to gain time against the 24 hour limit. It was a lot quieter on
the trail since the 6 and 12 hour runners / walkers had stopped before midnight. When it got dark a few duos were walking against flow, which was not only pleasant since you see people but was also for our safety (?!?). At about 5 – 6 in the morning there was again some light rain so
I kept put on and taking off my rain cape but it didn't really matter since I felt really well. Eventually I finished after 23:31 minutes, the last of the five Centurions. Antoine finished a half hour earlier and was looking for medical support for his blisters. Despite the setbacks and my
worst time ever, I was very pleased that our mission was accomplished: Antoine USA Centurion 79 and myself 80.
During the final hour the laps are reduced to 440-yards to allow us to finish exactly at 24 hour mark. As a part of cooling down I did 2 of these rounds, then grabbed my bag and walked to the outdoor showers to rinse the mud off my legs and to put on some clean and warm clothes. While I was doing this the 24-hour race ended and everyone gathered for a full American
breakfast and the awards ceremony. An excellent and very cozy breakfast in the morning sun where many prizes were awarded. The 100 milers got their "100 miles in 24 hours" sweatshirt. For the winners, there were ceramic plates, made by Danny Ripka, a runner who won the 24 hours reportedly many times. To my great surprise, I was also called forward for a plate. Australia couple were clearly 1 and 2, they finished first on the 100 mile while I finished 5th. So I couldn't comprehend why I was called forward but when I saw the plate it was all clear to me: the award was not for the winners of the 100 miles but of the 24 hours. The Scholtz's walked a few additional laps after passing the 100 miles and I walked two cool down laps which put
me half a mile ahead of our American friend Rob Robertson and Antoine. So in addition to the medal, the T-shirt, the sweatshirt I took also a nice souvenir plate home.
Centurion Report Rob Robertson
I got to the race early. Found a picnic table where I could watch everyone show up. Meet Ollie right off the bat. Ollie is no stranger to ultra distance walking events. Next to catch my eye were the Dutch Centurions. Easy guys to spot. What you would expect double centurions to look like.
They sat across from me in the timing and lap tent. Then the Australian couple showed up. You could tell from their meeting there is a magical bond between Centurions. They came from opposite sides of the earth but they had all chewed the same pavement. They had a connection and you could tell it. I so wanted to be part of that magical bond.
At 8am sharp the race started. First an out and back then 2.14 miles around Lake Snelling. A beautiful place to race. Lots of shade and big trees. One fourth of the course was paved path. One fourth a paved road. One half a graded dirt trail. The trail had some small rock and some one inch size rock. A few steady up hills and one sharp drop down hill. Many areas had roots and buckled asphalt from tree roots.
The race started pleasantly cool. I had no problem holding a pace a little faster than 13:20. That is good because they were telling us the storms would arrive around 11pm. I started to have a problem. Little rocks were getting in my shoes. It got to be a game with me. A rock would get in.
I would adjust my footfalls. Try and herd the rocks to places that did not hurt. If the rocks all gathered under my arch or around my toes I won the game. When you walked the tangents on the trail you had to cross the one inch rocks. On my lap 8 all four of the centurions lapped me.
It looked like they were racing. Not me I stuck to my plan. Every lap I had to go down that sharp downhill. It hurt to go down. Later it became almost unbearable. Every four hours you had to weigh in. Lose to much weight and the medical staff would hold you. It made you eat and drink
every lap. No problem for me. I eat like crazy. I never dropped more than three pounds. At the eight hour mark I changed socks and dumped the gravel out of my shoes. Patched a blister on my right big toe. My sweet wife Brenda crewed for me. I never let her go to races. I feel sorry for
those wives and kids that watch daddy take off. Then wait around for 5 hours for his return. She was going to crew for me and that was that. I am glad she did. The afternoon turned out Hot and very humid. Not hot and humid to me but to anyone not from Oklahoma or Florida. I had
just got my lap back from the Centurions. Then it happened. A rock jumped in the back of my left shoe. Got right at the bottom outside of my heel. I could move it but only to the middle of my heel. I would just live with it till hour 16 and change socks again. I noticed some thing about the Dutch Centurions when I passed them. They did not hold their arms at a 90 degree angle. I tried it. It was perfect for relaxing my arms while maintaining my pace. Then I saw it, Lightning flash. Every time I passed the lap counters I counted it a blessing I could get one more lap. It came one of those Oklahoma Thunderstorms. It rained so hard all I could see was rain with my light on. The low spots had over ankle deep water. The water running off a nearby highway washed out two gullies in the dirt path. The road section looked like a river with Rapids. Still they let us race and we were glad to do it. There was water. The dirt turned to slick mud. It was crazy. My friend the rock had made a big blister under the callus of my heel. My friend the sharp downhill hurt my legs beyond belief. I slipped all over that dirt path. Waded through water. Walked around the gullies. Got where no food looked good. Wet socks for six hours. Every reason to throw up your hands and say, maybe next year. None of us did that. We all five did what Centurion's do. You keep going, You finish. It really is 80 percent mental. I needed 46 laps. On lap 45 it hit me. Empty tank. No power. I was out of gas. I used everything I had and nothing was left. Brenda told me I could not stop now. I don't know how I finished that last lap. I would have cried but I was too tired. John Greene was at the little down hill from hell to walk in with me. I made it. Made the mistake of sitting right down. Almost passed out. No blood in my head. Laid on a picnic table for an hour. Brenda was so sad her camera battery had died. Would have made a great before and after comparison picture. I knew a Centurion attempt would be tough. Turned out even tougher than I thought. Oh what a rush crossing that finish line. No wonder Centurions have a magical bond. It is a Spectacular event with lots of emotions and challenges. A test worthy of a special name. CENTURION!
********************************************************************************
2014: 24 Hour Walk Results FANS Lake Snelling, Minnesota
John Greene 66.1 Miles U.S. Centurion 70
Barb Bengtson 57.8
Barbara Curnow 53.0
Haley Bengtson 50.9
Jerry Young 44.5
David Daubert 44.5
Bruce Leasure 40.2 JUDGE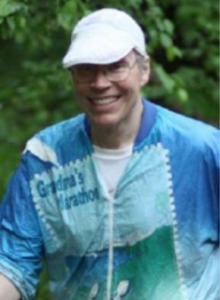 United States Centurion C70 John Greene
Report by  Judge  Bruce Leasure.
We had a couple of people try for 100 miles at FANS this year, but the
conditions were not favorable. We had lots of rain overnight before the
race, then it kept raining the first 3-4 hours. The course is half on a
dirt road which turned into mud. I think it was pretty much impossible
this year. I got 40 in as a judge (strolling the wrong way around the
loop), but no one came close.
*********************************************************************************
2013: 24 Hour Walk Results
Brian Kuhn 100.5 Miles NEW U.S. Centurion 75
Brian Kuhn
Fans 2013 Race Report FANS Lake Snelling, Minnesota
FANS is a race which has been around for 24 years now. It is a fundraiser for a local charity United Communities and their FANS scholarship program. This year they had to move the location to a new one around Lake Snelling, which is right near the airport in Minneapolis. Everything was conveniently located for the race which made the logistics very simple to plan for. They had a pre-race dinner and registration on Friday, and the race was from 8am Sat to 8am Sunday, with a 12-hour option. The course was approximately 2.2 miles around the lake
on an asphalt walking path and a dirt/gravel path, about half/half. The weather was uncertain with some rain in the forecast. We got lucky and were only rained on for about 2 hours during the mid afternoon. It got down to the upper 40s at night, but everyone dealt with that w/o a problem (most participants were from Minnesota). It got up to about 70 during the day, but was cloudy most of the time. My race went pretty much as expected. I started well and finished the first 50 miles in 10:15, and had completed 56.5 miles by the 12-hour mark. I knew I was
on target to finish above 100 miles which was the only real goal. I was thinking at this point, that if things went really well, I could get 105 miles or so. However, once it got dark, it was hard to keep as aggressive of a pace and I slowed a bit. Also, it was hard to keep fully alert at times. I think this is an issue that makes walking harder than running in a 24hr event. When running,
I'm exerting more and have little trouble staying alert. Going thru the night, I knew that I just had to keep a steady pace to finish the 100 miles. I lost most of my desire to push harder and try to get more than 100 in the wee hours. The nice thing about Minnesota this time of year, is that the sky starts to lighten around 4:30am. This got the mood back a bit. I finished the race
relatively uneventfully, steadily making my way towards 100 miles. I finished my 46th lap, at 100 miles, with about 12 minutes to go. I did two out and backs to give me the 100.5 miles (wanted to make sure, since it was a new course). Cool thing right near the end of the race was seeing a bald eagle up in a tree near the lake. I heard him squawk which is what got my attention. Quite a cool looking bird and a good omen I thought. So, I achieved my goal of officially walking 100 miles in 24 hours. This is officially my 2nd time doing this, but my first official Centurion event. The Run Like the Wind event last December was not a certified event with judges. At this event, Bruce Leisure checked on me periodically to make sure I was not running. Upon certification, my name should appear on the official list of centurions for the USA. I'll be #75
*************************************************************
2012 FANS 24 Hour Lake Nokomis
102.20 Joe Roche 102.2 Miles NEW United States Centurion C74
89.17 Jim Phelan 89.17
85.24 Marsha White 85.24
74.31 Patrick Bivona 74.31
56.56 Scott Olson 56.56
52.64 Barb Curnow 52.64
50.09 Traci Sullivan 50.09
45.25 Kendra Martin 45.25
40.40 Denny Bradecamp 40.40
38.06 Barbara Bengtson 38.06
37.81 Haley Bengtson 37.81
35.51 Bernie Finch 35.51
30.72 Stephen Peckiconis 30.72
28.29 Michael Rehbein 28.29
25.87 Bruce Leasure 25.87 JUDGE
Joe Roche Fans 2012 Race Report
The 2012 event was blessed with good weather with mostly sunny sky's with temps from mid 50s to mid 70s, generally there was a light breeze. The course is a 2.42 mile loop around a lake
in a suburban park. The surface is mixed asphalt and concrete about 4-5 feet wide with a few sections of grass to cross. The course is flat except one 15 foot hill to climb and shaded in
many sections. Since the race is held on a weekend the park was very busy and you share the course with many locals running, walking, pushing strollers, walking dogs and kids on bikes.
This was not a major issue is most people got out of your way or you just went around them. At night there are some well lighted sections but it was particularly dark in the shaded areas. There was a full moon all throughout the night. I was able to meet centurion Pat Bivona who I discovered was also born in my home town Newark NJ. I spoke to walker Marsha White several times on the course but due to the longer laps, didn't see or had trouble IDing the other walkers during the race, I did meet Jim Phelan at the awards breakfast but don't recall seeing him during the race. I made the mistake of not attending the pre-race dinner Friday night which may have allowed me the chance to meet more of these folks. I was pleased that the weather was going to be cool enough to allow me a chance to get a 100 or more. My plan was to walk at a 13 minute pace and to take as few breaks as possible. Right from the start the 13 minute pace was a struggle to hold but I stayed as close as possible. After 6 hrs I had 27 miles and 54 miles after 12 hrs. My wife Sandy was handing me food or drink each lap from the base camp near the start/finish line. I wore fairly light NB 1190s running shoes. I figured I needed lighter flexible shoes to keep my intended pace. I was aware that part of the course was on concrete but I would estimate that it was 40-50% concrete. After 12 hrs, I checked my feet, changed my socks and put my shoes back on. I thought my feet were in good shape at that point. As the race went on my feet hurt more and more. The next 6 hours gave me 26 more miles for a total of 80. The course record is 106 mile so I thought maybe I could challenge that record. My fueling strategy was simple I would drink gatorade and eat PowerBar Cola energy chews. I have Crohns Disease so my fueling usually involves things that I think won't give me diarrhea. However as the race went on I found it harder to eat despite Sandy's advice. So my energy level was dropping and my feet were hurting a lot. I was hoping that daylight would hasten my pace but with 3 hrs to go my pace slowed further and I was not going to challenge the record. I only was able to walk 22.2 miles in the last 6hrs. I hit the 100 mile mark at 23:23:37 In most of my races I have been able to keep a steady pace until the end so I was disappointed that I slowed so much. I was unsure about my choice of shoes going in and if I knew there was so much concrete I would have wore more of a trail shoe. It was a great experience and I would recommend the race to anyone who was interested. The race is well organized and supported by the FANS Race committee any many volunteers. I would also like to thank the Bruce Leasure and the Twin City Race Walking club for making the centurion race possible.
***********************************************************
2011 FANS 24 Hour Lake Nokomis
Maryann Ramirez 80.77 Miles
Ray Sharp 77.85
Marsha White 76.72
Mellody Hughes 67.37
Dan Molnar 66.49
Ollie Nanyes 54.38
Kendra Martin 51.59
Keith Hardy 50.46
Barbara Bengtson 50.09
Barb Curnow 50.09
Haley Bengtson 45.24
Jordan Jarandson 39.48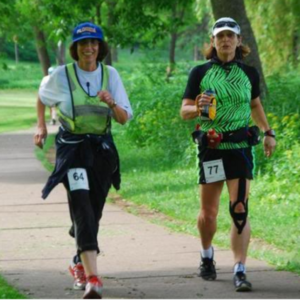 Marsha White and Maryann Ramirez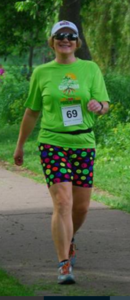 Ray Sharp and Mellody Hughes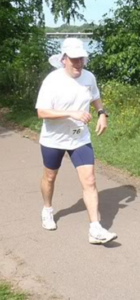 Ollie Nanyes and Dan Molnar
***********************************************************
2010 FANS 24 Hour Lake Nokomis
Frans Leijtens 106.03 NEW United States Centurion C71
Rudy Schoors 103.44 NEW United States Centurion C72
Caroline Mestdagh 101.69 NEW United States Centurion C73
David Daubert 65.99
Milan Stevanovich 62.82
Keith Hardy 60.02
Michael Rehbein 53.51
Barb Curnow 50.09
Annette LeDuc 50.09
Sandy Krantz-O'Neil 50.09
Adam Styer 18.60
Race Report by Frans Leijtens
Records are made to be broken
When I am looking for a nice holiday destination, I usually try to match it with a good walking event. And since I enjoyed walking the North Face Endurance Challenge 50 miles in San Francisco last year, I decided to travel to Minneapolis for a week and attempt to obtain the American version of the Centurion title at the F.A.N.S. 12 and 24 hour races.This meant that I had to pass up on the Schiedam races: I did a careful 50 miles at that event and was happy not to be walking there during the daytime. The heat in Schiedam on Saturday afternoon caused
several walkers to abandon the race. One week after that event I travelled to Diekirch in Luxemburg with twenty of my colleagues, to enjoy the Two Days Army Marches in beautiful sunny weather. The Monday after Diekirch I boarded a Delta Airlines Airbus 330 to Minneapolis. I had selected the Ramada hotel just opposite of the Mall of America, an extra large shopping mall on the south side of the city and airport. I used Monday evening to admire their indoor
amusement park, aquarium and hundreds of stores. Tuesday was spent walking round downtown Minneapolis, visiting the Mill City Museum, walking the Heritage Trail and the Boom Island Walk and making a tour through the Skyway system. On Wednesday I set out to walk several trails of the Grand Rounds Scenic Byway. From Minnehaha Park I first walked to Lake Nokomis, followed by half a dozen other lakes. North of the city I planned to cross the Mississippi via the Camden bridge. Unfortunately, the bridge was under construction and so was the next bridge two kilometers down the river. After consulting my map, I decided to
follow an alternative trail, along the Mississippi and through the center of Minneapolis.In the end, my walk was somewhat shorter than planned, but on Wednesday afternoon I had done about 30 miles. It proved to be a beautiful and low intensity training for the 24 hours. Thursday morning I met Rudy Schoors and Caroline Mestdagh at the breakfast buffet in my hotel. While they set out to explore the Mall, I took a bus to that other Twin City, St. Paul. This proved to be a
wise choice: the free tour of the Capitol Building was the best trip I did all week. A lot better in fact than my short visit to Minnesota Zoo on Friday morning. On Friday afternoon, just like Rudy and Caroline a day before, I went to a local Walmart for supplies. This Walmart was 'within walking distance of the hotel' and, just like Rudy and Caroline a day before, I learned that a walking distance with empty hands is totally different than with 24 bottles of Gatorade and several pounds of bananas. The weather did not help. It had been 25 degrees Celsius all week with a very bright sun: excellent weather for a vacation, but too warm to do a strenuous walk.
Friday evening Rudy, Caroline and I shared a taxi to Lake Nokomis Community Center for the pre-race pasta dinner. We reported at the registration desk and met several friendly Americans with whom we had been e-mailing for weeks now. They also provided us with a cool T-shirt and some other goodies. Our meal was prepared by the same kids who would benefit from the funds gathered by the F.A.N.S. event. During the evening I checked the weather report: Saturday showed clouds and a thirty percent chance of rain. When we left the hotel on Saturday
morning we learned that clouds in Minneapolis cause a high humidity and provide very little oxygen in the air. It was warm enough to start the race (at 8 AM) in T-shirt and shorts. The high temperature and humidity made me set off at a lower pace than planned: doing more
than 5 miles per hour was not a good idea. Before the walk Rudy, Caroline and I had confiscated a picnic table in tent city, right next to the track, for our food and drinks (just in case the local
feeding stations would not provide those things we like to eat). Just before the start the judges, from the Twin City Racewalkers, came around to introduce themselves. They were there to judge the style of the race walkers, but only noticed minor offences (cutting a few corners) by two runners. Only John Greene, member of the same walking club, had ever walked 100 miles and therefore spectators had little experience in seeing such fast walkers on the track. We started with an up and down section of 2.6 kilometers before going on to the 3.9 kilometer laps around Lake Nokomis. Soon we were reassured as to the main feeding station: sports drinks, cola, water, fruit juice, giant strawberries, melon, peanut butter and jam sandwiches and pizza slices in the evening… the only thing lacking was warm tea. The second station half way through the lap offered, similar to the second feeding station at the Schiedam event, a limited choice
of food and beverages and was strangely positioned several meters right of the path in the grass. There were four locations where the track led through the grass "because everybody would cut those corners anyway". One of those short cuts actually led across Mount Nokomis,
a small and uneven hill. These unpaved sections made the lap somewhat more difficult than expected. For some unknown reason the American runners preferred the sand left or right of the paved path, but after a few hours of walking or running, most opted for the middle of the
concrete or asphalt as well. I had planned to walk my first 50 miles, just like in Schiedam two weeks earlier, in about ten hours and Rudy and Caroline started at a slower pace. They did manage to keep up their speed for a long time, because it took me nine hours to lap them and take their picture. With the humidity and the enduring rain which rid us of the humidity, my pace was a bit slower than expected. At 6.15 PM I passed the 50 miles, followed by Rudy and Caroline half an hour later. Several Americans stared at us in admiration: losing only two minutes per lap over a period of ten hours was not their strategy for this race. One of the runners pointed at me and started to complain to other participants: "That is one of those Europeans from Sweden or Belgium or somewhere! They probably walked here from Sweden, because he has passed me about 38 times already. And the other two are a married couple who look like they are having a fight. She walks up front with an angry facial expression and he is following her at some distance and is talking to her, as if he is apologizing all the time". It was a good thing that some Americans put a smile on my face, because the weather did not. Our race walking judges announced that the rain would stop somewhere between 4 and 9 PM. An accurate estimate like that always helps, especially because at 8 PM the weather did improve. My shirt had some time to dry before darkness fell. When the temperature started to go down, I could pause shortly to put on my jacket over the dry T-shirt. Some small gravel kept falling into
my left shoe, so around midnight I also stopped twice to change socks. A part from these three two minute stops I was able to keep walking according to plan. Even the dreaded compulsory weighings did not slow us down. Only at the first weighing I had to stand in line for about a
minute: later that night all stops went smoothly. At the first stop I actually weighed more because of the rain in my clothes. Later, I kept the same weight: a clear sign that I was able to keep eating and drinking throughout the race.The walkers and runners doing the 12 hours
had gradually left the park or crawled into their tents and the track became very quiet during the night. The aircraft (a lot of DC-9's or MD-90's with noisy old turbojet engines) used a different runway during the night, allowing me to use my mp3-player whilst walking lap
after lap. Rudy and Caroline managed to follow me at about 1.5 lap distance and were clocking the same lap times as I. After roughly 130 kilometers my energy reserves started to fail me and my lap times started to increase. Not a problem, because I had enough time left to complete my 100 miles. Perhaps a week of rest on my hotel bed would have allowed me to keep up a higher pace, but a fun vacation was also one of my goals for this week. After the race Caroline told me that she got into trouble after about 120 kilometers (she had trouble eating sufficiently), which kept her and Rudy at the same distance behind me. And 22 hours into the race the judges assembled at the 100 miles point in the park to clock me passing this mark. Just after sunrise I became Centurion U.S.A. 71 in 22.12. Walking steadily, Rudy and Caroline passed the 100 miles
mark at 23.01, obtaining Centurion U.S.A. numbers 72 and 73. I managed to complete two more 3.9 kilometer laps before doing one more small 440 yard lap. Rudy and Caroline completed their 100 miles and immediately started walking the 440 yard laps. Rudy kept this up
until the very end, but Caroline and me got fed up with the up and down track a few minutes ahead of time. Some participants who had stumbled around the lake, squeezed out a large number of small laps at a very high speed, but this did not alter the final scores. Eventually about 15 walkers and runners had done 100 miles or more when we started packing up Sunday morning 8 AM. All the leftover food we had bought was discarded before we dragged our
tired bodies uphill to the Community Center for the prize ceremony at 8.30 AM. The Twin City Racewalkers already occupied a table and invited us to sit with them. An animated conversation ensued and information and e-mail addresses were exchanged. Race director Paul Sacket raced through the prize ceremony: our small breakfast was excellent, but required steady eating to be
finished before the end of the ceremony. Everybody clearly longed for a shower and a bed. Several runners set impressive performances and were applauded loudly. Then Paul narrated with astonishment about those Belgians and the Dutchman, who came all the way to
Minneapolis. John Greene (Twin City Racewalkers) was the fastest walker in the 12 hour race and Rudy, Caroline and I occupied the top three on the 24 hour walk. I got the distinct impression that the Twin City Racewalkers were quite proud of 'their' walkers. Sweaters were awarded to any walker or runner completing 100 miles and sweaters were awarded to those completing for example 500 or 1000 miles in all F.A.N.S. 24 hour events. And at the end,
every member of the organizing committee had come up with an extraordinary award. First of all, there was a 'what was I thinking' award for the person doing the 24 hours without any training. Also, two members of the Rotterdam Walking Club won the award for the married couple doing the most miles and there was a prize for a runner with a broken leg! And according to Google Earth I live 4169 miles from Minneapolis and therefore I lost the prize for
the longest journey to Rudy and Caroline (4175 miles from Geel to Minneapolis). Loaded with awards and congratulations we were transported to our hotel by a very friendly spectator.
This was a weekend for walking and running in Minneapolis indeed: in Nokomis Park, parallel to our track, some Foundation for the Fight Against Cancer held a short distance running and walking event and on that Sunday, there was an annual marathon event in downtown Minneapolis. Add to that the F.A.N.S.-kids walking or running the Fun Run and there were a lot of people working to keep fit this week. The F.A.N.S. 12 and 24 hour races are quite similar and of the same excellent quality as the Walking Weekend hosted by the R.W.V. in Schiedam. If some European walker should decide to opt for the Centurion U.S.A. title, I would recommend
this event. The track record was owned by John Greene (2008, 100.4 miles), but is now 106 miles. But, as John already added, "records are made to be broken".
Frans Leijtens
Centurion 949, Continental Centurion 256 and Centurion U.S.A. 71
***************************************************************
2009 FANS 24 Hour Lake Nokomis
Barb Curnow 66.87 Miles
Ollie Nanyes 66.49
Milan Stevanovich 65.99
Tim Wilt 58.60
Comments by Bruce Leasure (Judge)
A couple of minor details
Twin Cities Race Walkers gives awards to 24 hour walkers
at FANS for 100 km (Ulli Kamm) and 100 miles (Joe Duncan).
We call them both Centurion USA awards, but the plaque
differentiates. So, this year, we have 3 "Ulli Kamm"
awards to make.
We judge only contact (not bent knee) because we
understood that was the standard for centurion walkers.
As that seems to still be accepted practice (I was
reading the messages on ultrawalking group) we will
continue to judge that way.
Race Report by Ollie Nanyes
My race The first 10-15 miles felt fine, though I felt myself starting to slow just a bit. I took Succeed tablets every lap and they worked ok; nausea wasn't to dog me until I ate solid
food 12 hours into the race; by then I shouldn't have (given that I was exhausted from the effort). My initial laps were a bit too quick as well; the 32-33 should have been 35-36. I was
to pay a heavy price later. Also at about 4 hours I started to get some pain in the back of my right knee; part of it is that I have lots of scar tissue in that leg and it aches during wet
weather. The other part is that, where I have put in enough miles to "fake it" through a marathon, I haven't done enough miles to walk in this fashion for such a long time. I took
Tylenol at 4 and 8 hours. But when I took Tylenol at 4 hours (2 extra strength tablets) I got some face tingles and felt just a tad bit "loopy"; I was worried that I had taken too much sodium? I figured out that it was the combination of the drug and my lower blood volume when I took it again at 8 hours and got a similar effect. It turns out that our competition really amounted to which one of us would sleep less; she had a rough time of it as well.:) I was also having a friendly back and forth with the eventual winner of the 12 hour walk; he'd get a bit ahead, stop for one reason or another and then catch up to me. It turns out that we tied at the 12 hour mark. Food wise, I was eating white bread and bananas; that worked fine for the first
couple of feedings. Crunch time came at 12 hours when I hit 47.7 miles (11:52). I thought "do I eat another solid meal or do I switch to soups/liquids NOW"? I tried more bread; bad mistake. I almost instantly got sick and that lap (albeit with weigh in, lamp pickup stop) took an ugly
51 minutes. I felt horrible; I had to kick myself into finishing the lap. That did put me at 12:43 for 50.1 miles (best since 2006) but I was miserable; my stomach was turning somersaults. I had thought about trying to tough it out for one more lap (double marathon) but decided to
rest for 30 minutes. 30 minutes became 90 and I went out again. The first post rest lap (in the darkness) went very well; I took a swig of diet coke and it went bad again. I had to stop and puke just a bit during the next lap; part of my previous meal didn't digest (though some of it had). That loop took over 1 hour to do so I stopped again. This was my protracted rest stop that killed me in terms of distance. I stayed in my car for 4:30; I had woken up at 2:00 into my nap and felt much better but my right knee (behind the knee area) was killing me. So I thought about dropping; I shut my eyes and awoke 2:30 later and my knee felt ok. I decided that I wanted 100 km so I got up, checked back into the race and got going. It was 21:41 into the race
when I finished that lap (now 57.5 miles) and I was walking better. In fact, Betty Greene (wife of John Greene, centurion from the year before and a mathematics professor) walked with me for the lap that got me to 100 km. By then I was actually passing many of those who had stayed out the entire time; it is amazing how quickly rest revives me. I still had time for one more long lap that got me to 64.6 miles and it was just over 23:32 into it. I couldn't quite average 14 minute miles over the last 27 plus minutes; I did get in 7 full laps (1.75 miles) plus a half lap (.125 miles).
At the post race breakfast I sat with the Curnows and found out that Barbara had also taken a rest; she finished her last long lap about 30 minutes quicker than I had and therefore had done a few more short laps. She finished with 66.9 milesto my 66.5; the third place walker got 65.
So to the "wouda-couda-shouda": getting up 40 minutes earlier would have sealed the "win" for me. But she could say the same thing. On the other hand waiting 20 minutes more would have
knocked me back to 3rd.
Lessons learned:
1. The body weight and the marathon and the slow 100 miler did help, but I simply didn't have enough miles using the "almost racewalk" motion to be competitive. I used a straight hiking
style at McNaughton and I should have mixed a lot of that into my race here.
2. Solid food doesn't work when I am exhausted. When I knew how bad I was feeling at 12 hours I should have only taken liquid and slowed the pace until I felt better.
3. I need the concentrated race specific miles; I didn't have those.
4. I need to accept that my times will be slower when it is rainy and adjust the expectations accordingly. I weighed in the day before at 183.5 (shoes, shirt, shorts). My first 4 hour weight had me at 187 and my second had me at 191, and that was not factoring in my fanny pack. THAT was one reason I was feeling so sluggish. (note: the race has a mandatory 4 hour weigh in)
5. Social: it was fun seeing everyone again. It turns out that Julie Berg had a tough time of it (got some bad news mid run) but I enjoyed seeing her anyway. The volunteers were nice and I'd like to give a shout out to the "safety patrol" guy who walked with me during my "get sick" lap; he has finished a 50 miler and recently did a 3:29 road marathon. Funny, but I was too loopy to remember his name, but I not only remember his marathon time but I also remember how he paced his best marathon (7:45 for the first half, 8:00 for the next 7 miles).:)
Of course, I also enjoyed meeting the Greenes again and Betty's brother (who ran a hard 24 hours). And as usual, I'd like to thank Bruce Leisure for the time he put into this; I hope to do one of his "judged walks" soon, though I am going to have to spend some time fixing my technique errors. Yes, centurions are not judged on knees, but my current style is horribly inefficient and I am going to have to spend some time fixing that up. At around 6 hours
I knew that it would be rough sledding and I told Bruce Leisure (the racewalk coordinator) that 100 miles was out of the question but that 100 km would be realistic.
Still I was holding a reasonable pace, though after stopping for nutrition at 8 hours, I took some time to change into a new jacket and a dry shirt. That revived me a bit though it took more time off. At 10 hours I had passed over 40 miles and seemed to have settled at a realistic pace. The rain had lessened and I was enjoying things: the lake (and the huge channel catfish that you could see as you passed over the bridge), the other competitors, etc. One lady had me wondering if I were hallucinating as she put on some white with black leopard spotted tights.:)
I wasn't worried about the walking competition; I had lapped Barb Curnow 3 times but I knew that my finishing ahead of her would largely depend on my NOT blowing up as this tough lady tends to walk all of the way through.
****************************************************************
2008 Ultracentric 24/48 hours Grapevine, Texas
None of the five walkers reached 100 miles as the course was quite a
bit tougher than last year's. At least four reached the 100km distance
that entitles them to substantial prize money. Placing:
Dorit Attias 97.356 Miles
James Gawle 91.561
Gene Sera 70.699
Edgar Rodriquez 62.586
Nicholas Webster 45.201
******************************
2008 FANS 24 Hour Lake Nokomis
John Greene 100.40 NEW United States Centurion C70
Barb Curnow 67.04
Hardy Goebel 50.09
David Daubert 47.67
Ollie Nanyes 47.67
Bruce Bueling 40.40
Cheri Kirchner 40.40
Todd Lytle 30.72
Tim Stoddart 30.72
Tiffany Thayer 30.72
Ray Sharp 25.87
Race Report by Ollie Nanyes
The skinny: at 11:44 I was at 45.2 miles but my stomach was upset; I didn't digest a couple of slices of watermelon. At mile 42.8, I had been feeling "on top of the world", thinking "wow, I've got it today". How quickly things can change.
It took me 1:55 to cover the lap that took me from 45.2 to 47.6 miles, and so I tried to nap. No avail; I was nauseated when I woke up and so I retired.
The good news: the 45.2 miles (in heat and humidity) in 11:44 represents a major improvement over where I had been recently; in fact my marathon split was about 6:33, or 17 minutes slower than two weeks ago (under similar conditions).
The bad news: my stomach has lost the ability to go much beyond 12 hours; my guess is that I am simply too heavy to last much longer than that. When I did my 100s (including one sub 24 hour walk), I was about 10 pounds lighter.
Race results: they will be up at the race site, But the top two 24 hour walkers were John Greene who gutted out 100.8 miles, and Barb Curnow who overcame a touchy stomach and blisters to make 67 miles (a good performance on a tough day).
My race report follows:
1. Social: I just love the people that I met up again: John and Betty Greene, Barb Kurnow and her husband, Ray Sharp (world cup racewalker), Julie Berg, Bob Metzger, Bruce Leisure and many others.
2. My race: basically I started moderately and was at 3:17 at 13.78 miles. However I knew that it was getting hot and muggy and so I deliberately slowed down and drank plenty of sugar free Powerade zero which kept me in it. I ate a small meal and it took a nice long time to digest the food. During this stretch I walked some with Barb (I should have walked more with her) and at 25.9 miles I was at 6:29. I was then able to pick it up a bit and reach 30.8 miles (about 50km) at 7:44.
The next bit went fairly well, even though it included a 15 minute pit stop to relube some hot spots on my foot. I hit 33.2 miles in 8:22 (over 1 hour faster than last year's much cooler Farmdale race) and 10:26 at 40.3 miles, then 11:05 at 42.8 miles.
But during my last food stop, I was only able to eat two slices of bread; my stomach was a bit touchy. Then I tried to eat a couple of small slices of watermelon; that made me sick. So though Bruce walked a lap with me and I got to 45.2 miles in 11:44, I was all but finished.
I went from "top of the world" to "splut" in 2.4 miles.
I tried rest, walk, rest, walk and it took me 1:55 to do the next 2.4 miles, and so I tried a 2 hour nap. When I got up, I felt nauseated still and so I called it a day.
On the drive back to the motel I kept a bad I could spit in, and then I threw up in the parking lot, thereby making myself feel much better.
Ironically, if I didn't have a room for the night, I would have stayed at the race course and done that which would have enabled me to get in a few more miles, but that is "would have, could have, should have" at this point.
Scattered comments
1. I talked to Jeff Hagen who wrote an excellent article about the 24 hour track race; he has a slew of 100 mile wins and 24 hour wins under his belt. I noticed that his recovery walking speed is faster than my normal walking! As we crossed one concrete bridge (going against the wind, he noted to me that several runners were burning energy unnecessarily by running that stretch.
2. Barb Curnow yelled at me for going to fast early; she was right! She said: "next time, walk some with the old lady". I might actually listen to her.:)
3. There were tons of attractive women of all ages out there; that took some of the pain away.
4. Ray Sharp retired after 25 miles; he was just blistering along at about 9 minutes per mile. But due to his recent racing, he was unwilling to pay the price. I suppose racing at such a high level
for so long burns one out.
5. John Green gave a gut wrenching performance to become a newCenturion. He would have been way over 100 miles on a cooler day.
6. I used an ice bag to keep ice on my head (under my cap); that really helped during the very hot stretches.
********************************************************************
2007 Ultracentric 24/48 hours Grapevine, Texas
Marcelino Sobczak NEW United States Centurion C64
Edward Parrot NEW United States Centurion C65
Frank van der Gulik NEW United States Centurion C66
Douglas Johnson NEW United States Centurion C67
Geoff Hain NEW United States Centurion C68
Marcel Dekker NEW United States Centurion C69
Marcel Lambiotte 62.000 Miles
Jerry Kerr 60.000
Eugene Kitts 58.000
Ollie Nanyes 58:000
Lawrence Block 20.000
Dorit Attias 20.000
Report by Marcelino Sobczak
A great race with a lot of extremes including the weather with almost 28 degrees from minute one until sunset. Which by the way here but 20 takes minutes. The track was later incorrectly measured and I will come back at a later date when I have all the data. There were three significant long and steep bumps in the track what the one and the other are also not better made even to mention the kraaters which was called putholes. For the average runner but not a problem to quickly walk an almost impossible task. Finally, the nursing nowhere near the standard we are used to. The icy drink and eht not present in the food we pretended PNS
fresh bananas brought to unprecedented stomach problems that have to step even momentarily have resulted from the race. Also available here from good and affordable
nutritious food and fruits is almost impossible and so expensive that it is now not started to wonder why the Americans just fast food eating is the only affordable viz. A kilo of apples costs here dollar around 5:50 a 8:50 kilo of oranges etc. Happy and satisfied I go back in an hour to the Netherlands familiar with another centurion No. richer All hope to see you in Rotterdam.
Report by Dave Gwyn
The fight for the fourth and fifth monetary prizes, each $250, was rather odd. With 2 miles to go, Doug Johnson had more than a seven minute lead, down from a half hour in the wee hours, on Geoff Hain. Doug headed back out the two-mile course content in the warm fuzzies of impending Centurionhood, mingled with the agony of a severely-tested body. Geoff was one of the first runners and walkers to be directed into the quarter-mile loop that makes it
feasible to see where everyone finishes in the 24-hour and 48-hour races. With the ever-growing crowd of runners and walkers, and an enthusiastic announcer, generating a high energy level on the short loop, Geoff kept up a strong pace. When Doug entered the short loop with 300 meters to go, neither he nor Geoff knew where the other was in the crowd of circling athletes. Nobody among the interested observers noticed both finishes, and one walker was
uncertain of his time, so doubt about the finish order existed right up to the announcement of the prize winners. It would be sensible of Geoff, who has a 49 tattooed on one leg to celebrate his Australian Centurion identity, not to tattoo a 68 on the other until some time has elapsed and all possible errors have been considered by the chip timing crew. Meanwhile, back in sixth place, Marcel Dekker was putting on a furious kick, covering the last four miles in 45 minutes to barely add US Centurion status to his international collection of accolades. Marcel added another 900 meters since he was walking around anyhow.
Report by Geoff Hain
There were about 50 in the 24 hour event including 11 starters for the Centurion walk.Three from Holland, one from Belgium, and the rest from USA except of course myself. The three guys from Holland were all top walkers with best times of around 19 to 20 hours. The only female was Dorrit Attias from New York who is keen to come to Coburg maybe next year. The course was a one mile out and one mile back generally flat with reasonable long inclines which became progressively steeper as time went by! In the last hour, we reverted to a 1/4 mile loop so that all competitors were close together. A chip system was used for lap counting and there was a supply of food/drinks which was based on American tastes – not really my choice, but enough fruit which I like the best, to keep me happy. The location was quite nice on the edge of a lake
about 10 minutes from the centre of Grapevine, a small town very close to the Dallas/Fort Worth airport. The motel had a free shuttle to take us to/from the event. I was expecting quite cold weather but the day ended up quite hot, around 270C with clear skies and around 100C overnight and no rain which was good. Most people were a bit surprised as well with the hot conditions and were probably a bit slower than normal until things got cooler. The organisers and helpers were very friendly and always said when you thank them for something "your most welcome". I was very pleased with my efforts although I did fade during the afternoon heat but picked up after and maintained a fairly steady pace throughout the night around 13.5 to 14 minutes /mile to finish comfortably at about my usual time of 23 1/2 hours ( actually 23.25.15 and my PB by a couple of minutes). With the chip system, nobody goes beyond the 100 mile
mark including myself. A few walkers dropped out along the way including Dorrit who was complaining of a foot injury and another who fell over in the dark – the track was poorly lit in many places and many runners wore headlights. This event was probably my best in terms of being comfortable throughout, maintaining a more even pace, and feeling relatively pain free afterwards, apart from being naturally tired. I can actually walk/stroll normally today, 24 hours
later. The Dutch walkers were all very encouraging despite the large disparity in speed between them and myself and were inviting me to come to Holland next year for their Centurion qualifier – we'll wait and see! Doing 100 miles doesn't really get any easier, the mental strength required is still the same when the body says I've had enough. After 7 Centurions on 4 continents in just over 3 years, I feeling pretty pleased with myself and don't intend to do any more training until at least sometime in the new year.
Report by Ed Parrot
On November 18th, during the dark early morning hours in Grapevine, Texas, I became the 65th Centurion on American soil. A Centurion is someone who has walked 100 miles in under 24 hours, with judges ensuring that the walkers stay on the ground. In the U.S., the racewalking rule about keeping a straightened leg is not enforced during Centurion events. My time of 21:13:47 was second among the six athletes to finish, who included three Dutchmen, an Australian, and one other American, Doug Johnson, of Tennessee. There were 12 starters. We walked as part of a 24 hour running race that had over a hundred participants. The other five finishers all used something closely resembling racewalking technique the entire time. Doug probably would have passed strict bent knee judging, while the others mostly walked with a "late straightening" technique such as was legal years ago in racewalking. I did something a little different, in that each mile I alternated about 3/4 mile of legal racewalking with 1/4 mile of something like fast "street" walking. I discovered that this worked well in training and kept
the pressure off the back of my knees, and I've always been able to street walk pretty fast.
Right away, things didn't go as planned. I went out a bit fast the first mile, but was settled into pace by 2 miles. The thing was that my heart rate was a bit higher than I had experienced at the same pace in training. It wasn't until about fifteen miles that we found out that the 2 mile loop course had been measured on the straightest line around turns but that cones prevented us from actually walking that straight line. We were told we could start cutting the corners, but with people coming both ways on the out and back, that proved difficult, so we all probably walked an extra 50 yards every 2 mile loop. That aside, I started to realize by 20 miles that I would need to slow down, so I did. The temperature hit just over 80 degrees, and while my training in Florida prepared me for it, it certainly didn't feel good. The positive news was that my
plan of eating 50-150 calories every 2 mile loop and hydrating several times per loop was working perfectly. My stomach only rebelled one time, right around forty miles, but I felt better within about 3 miles after that. By this time I had slowed down from my early pace of between 11 and 11:30 per mile to more of a 12:00-12:30 per mile pace. I was still alternating racewalking with street walking, just more slowly. Up to 60 miles, I had traded the lead several times with the eventual winner, Dutchman Marcelino Sobczak. He was an experienced Centurion, with a 50K time 25 minutes faster than mine, and after a fast first ten miles, he took a couple of breaks during the heat of the day. But after 100K, it was already dark, and he took the lead for good. I was solidly in second, but the blisters on my feet were starting to affect my stride. I could no longer walk with a straight knee, so I was doing solely bent knee walking. I wasn't out of energy, but I just couldn't "push" at all. At mile 70, I took a ten minute break to stretch, hoping this might help, but it didn't. I was never really in doubt about finishing, but the visions of walking
16 minute miles the whole last 30 miles were not pleasant. It wasn't until 80 miles that three things happened to get me going well again. First, I finally sat down in the port-a-john. Without going into detail, I'll just say that if I ever do another one of these races, I will not leave this until 80 miles again! Second, I changed my shoes into a pair with a bit more cushion in the heel – not
running trainers, but heavier racing flats. Finally, the third place walker, another Dutchman, passed me. This was around 82 miles, and I picked it up from a 16 minute mile back to about 13:30. But I could not stay with him, and he soon was 3 or 4 minutes ahead. The thing is, I was feeling better, and I kept up the miles around 13:00. By 90 miles, I had the gap down slightly to the Dutchman, and I passed him around 93. I kept pushing harder and harder, not wanting to lose to him. In the end I beat him 7 minutes, but I wasn't sure until the last mile or so. I didn't have a straight knee and my legs were tight, but my hips were back into the racewalking motion. It was the oddest feeling, knowing I'd been going for 20 hours and 95 miles but feeling better than I had since the middle of the race. The last lap was tough, but I made around the last turn and forced my knees into a legal racewalk for the final straightaway I wish I could say that I was euphoric, but the fact is that I went so hard at the end that I was doubled over collapsed with stomach cramps and dizziness within minutes of finishing. This lasted for two hours that I would just as soon forget. There's a price you pay for asking a lot of yourself, and I paid. I still have no doubts that it was worth it, not even as I sit here sixty hours later with my blistered feet up on a chair. It doesn't take a massive talent to walk 100 miles in 24 hours. It
doesn't take large volumes of training (I did roughly 25-45 miles per week starting in mid-September, focused solely on this race, after largely cycling for the months before that). And it doesn't take someone with the ultimate mental toughness, either. But it is far from easy, especially having never done it before. I did all I could to minimize how much I'd have to
stop for food and other things, and I methodically planned my calorie intake so I'd have 6000 calories by the end. I'm sure that helped, but the biggest thing was that I knew there was no way I was going to give up. I'm not the fastest or the slowest of the now 69 American Centurions, but I suspect nearly all of us shared the same feeling of accomplishment after
finishing our first one.
***********************************************
2006 FANS 24 Hour Lake Nokomis
80.76 Dave Daubert
75.42 BARB CURNOW
71.88 Marshall King
70.21 Lawrence Block
66.11 Ollie Nanyes
56.05 ANNETTE LEDUC
40.40 Tim Stoddart
25.87 CHERI SCHEICK
Race Report by Lawrence Block
Let me start with thanks to Bruce Leasure, who made this a Centurion event (not that any of us gave Centurion status a run for its money, or, more properly, a walk for its money). Bruce has done wonders for race walking in the Twin Cities, and his round-the-clock presence at FANS was more supportive and companionable than words can tell.
It amazes me how recovery can sometimes be visible on a daily basis. The injury that took me out of the race was muscular soreness in the lower back, and that was never a factor once the race was over, as it only hurt when I was walking, or trying to. But my feet were a mess, with
forefoot blisters that made every step painful. Every day since they've felt a little better, and I walked a couple of miles yesterday just in the course of getting round town, and today I'm going to go out for an hour of racewalking. At this point I feel comfortable with the idea of the Anchorage marathon two weeks from today, and Wakefield the end of July.
Now back to FANS notes: Someone suggested it would be good if Dave Daubert were to join this message board, and let me second that. I didn't really get to talk to him until breakfast, but then found him interesting and congenial company. And any man who brings eight pairs of shoes to a race so he can change them every three hours is the sort of obsessive-compulsive chap I can truly appreciate. (Show me a man who's not obsessive-compulsive and I'll show
you a fellow who just doesn't really take an interest.)
It was a treat to meet Marshall, whom I'd known only through this board. It just wasn't his day (or night), and I just hope I'm on hand the next time he sails past the 100-mile mark. And of course it was a treat to see Ollie again, a class act if I've ever known one.
I was happy with my own performance, happy that for a chance it was my body rather than my mind that failed me, happy that 80+ miles would seem to be very possible sometime in
the future. Toward that end, I'm hoping to drop some weight between now and Wakefield. I weighed more than I prefer to at FANS, and it couldn't have helped.
I came away from the race with a clear understanding that a 24-hour race is my preferred event. I realized a while ago that I don't want to enter races shorter than marathon
distance, and I think I'll use marathons more as long training walks before 24-hour races than as goals in themselves. I'll never be fast, and what little speed I have will wane with the advancing years; OTOH, I've always been stubborn, and stubbornness seems to increase with the passage of time. Hey, you gotta use what the Lord gives you.
***************************************************************
2006 UltraCentric 24/48 Hour. Grapevine, Texas
Dorit Attias 100 Miles New United States Centurion C63
Erik Litt  31.2
Anatomy of a Centurion Walk
By Scott Demaree United States Centurion C60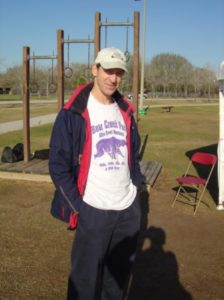 For the third year in a row, the Ultracentric race organization hosted a 100 mile walk. Previously held on a track in Addisson, new management moved this year's race to Meadowmere Park in
Grapevine. The 2.4 mile certified "reverse keyhole" course on park roads is an excellent venue for the Ultracentric events, which include a 48-Hour, 24-Hour (and 100 mile walk), 12-Hour
and 6-Hour. Additionally, the 24-Hour was designated the 2006 national championship.
As the walk director, I was privileged to help make the walk happen this year. Two years ago in Addisson, I finished my first 100-mile walk with Dave Gwyn in charge of judging. Last year, I was in charge with Dave helping. Dave could not help this year, and as it turned out, neither could anyone else. My potential work force consisted of local walkers, but when one went to the old race location (my fault for not warning him), and others simply did not show up as
planned, it was left for me to judge the entire walk. Because of the course layout and the small number of walkers, this was not as hard as it sounds. The course makes
a long loop back on itself on the turn-around side and a quarter mile loop and a 120-degree turn on the starting line side. With the help of binoculars, I could position myself at
a high point near the middle of the course and see walkers on both sides of the course quite well. I supplemented these long-distance observations by moving around the course when
it became clear that both walkers were staying relatively close to each other. The course was not completely lighted, so after dark, I was required to move considerably more often
to keep tabs on the darker areas. By intelligent use of the course layout, putting over 30 miles on my own legs and taking no sleep breaks, the walkers were rarely out of my sight. Under optimum weather conditions, Dorit Attias and Eric Litt were the only walkers taking up the 100-mile challenge this year. Dorit moved ahead early by a couple of hundred meters and that gap remained for the first few hours. Both walkers were well grounded, employing good technique, but Dorit in particular used excellent racewalking form, which
did not deteriorate as the race progressed. They completed most of the early laps in 28-30 minutes depending on breaks. Dorit reached the marathon point in less than five and a
half hours. By this time Eric was on an extended break that was to last until twilight. After a couple more hours of effort, he retired for the night (finishing with 31.2 miles). All this
time Dorit was completing laps in steady 30-minute intervals. This continued past 50 miles, and it was only after 100-K that her lap times slipped beyond 30 minutes consistently. Through the night she battled blisters and nausea and slowed further. By morning twilight, her overall pace had slipped dangerously close to the 14:24 per mile needed to finish 100 miles in 24 hours. Dawn had the expected effect of reviving her enthusiasm and pace, ensuring her finish. Inside the last hour, the competitors were required to stay on the certified quarter mile loop at the starting area. Dorit entered that loop needing seven laps to surpass 100 miles. She reached her goal, completing the lap at 23:39:30. When 24 hours expired, Dorit had a total of 101.52 miles, finishing 10th overall in the women's 24-Hour field. Her success with such good form was very impressive. Dorit had tried three previous times to become a Centurion, coming as close as 98 miles. Another goal she has is to qualify for the Paris to Colmar race. The new race director of Ultracentric is committed to making this a major walking event. We need more walkers and
more judges. Toward that end he is considering offering prize money for walkers (as was done this year for the 24-Hour runners) and bringing judges in from out-of-town. The only
course deficiency this year was lighting, and that will be improved next year. It is a great course with some minor elevation changes, which I believe is a benefit in such long duration walks. Weather in this area is generally good this time of year. Next years event will take place
Nov. 17, 2007, so start planning now.
**********************************************************************
Centurion 2006 "Bear Creek Park" Houston, Texas, USA
Jens Borello 100 miles NEW Centurion C62
Ollie Nanyes 76.30 miles
Beth Katcher 66.26 miles
Lawrence Block 64.25 miles
Andy Cable 62.24 miles
Doug Brown 50.20 miles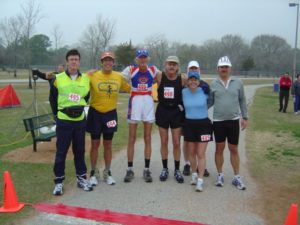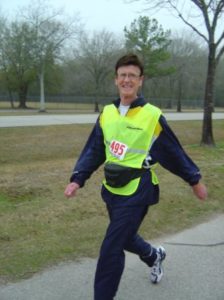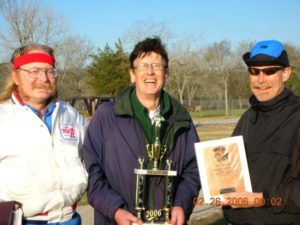 United States Centurion Jens Borello
Report by Ollie Nanyes
Dave Gwyn, who really helps keep racewalking alive in the Houston area worked with the race director of the Houston Ultra weekend to get a Centurion walk for the 2006 race. 7 walkers signed up. Unfortunately, Marshall King (the newest US Centurion) couldn't make it due to a family emergency. So there were 6 walkers filling out the Centurion field, including first timer Beth Katcher (she has had success in he shorter walks, Lawrence Block (aka Buffalobear), yours truly, Doug Brown (from Florida), Andy Cable (finished the hilly Vermont 100 miler in 29 hours) and Jens Borello (who walked a 22:15 100 mile at the Dutch Centurion race in 2004).
The course was a 2.008 mile asphalt loop in Bear Creek park. The loop could be a fast one as there were relatively few turns; it was bordered by woods on one side (where deer, raccoons and armadillos would pay us visits), a street on one side, and soccer/softball fields on the inner part and on the other two sides. But, within a hour or so of the start, it started to rain and it stayed rainy and windy for about 7 hours. The rain and the wind weren't that bad, but the
pavement quickly became slippery which caused one to slip just a bit when using the "heel-toe" action. That was to have an effect. Still, we were off and I quickly watched Jens and Beth get out of sight. For much of the first few hours I chatted with Andy Cable. Andy went through lots of
funny mental gymnastics; he talked about a "hypothetical" 15 minute a mile walker and how many times we'd have to lap him in order to keep a centurion pace and things like that. I found that to be a pleasant diversion from the rain and wind. I had to make a couple of early pit stops
and he then got away from me, only to lap me by around mile 20. For the first 10 laps (20 miles/32 km) I was doing 27-28:30 per lap but expending too much energy; part of the trouble is that I let my walking technique get sloppy, and part of it was that this pace was too fast for me, given the rain and slippery surface. My calves started to tighten. During this stretch, I noticed how several of the 100 km runners looked as if they were running a 10K. I didn't catch this guy's name, but this one tall guy finished the 100km run in under 7 hours! To put this into perspective, his average 50K splits would have won several of the Chicago 50K runs (which were
also on a paved bike trail). My socks were soaked and I noticed a hot spot on my left heel. I was 4:36:42 at 20.05 miles. I started to slow a bit (to care for the blister and to eat, and due to the
weather) and hit 30.1 miles in 6:58:15; still I was encouraged that I had a couple of low 27 minute laps (with Andy, who was 1 lap ahead). But then I took a 30 minute lap and decided to check on my blister. It was now large and needed to be tended to. I thought
hard and decided to go into the tent to tend to my feet; I re-taped and put tape on my heel as well; I also changed into dry socks and shoes. That ended the blister problem for the day but set me back 33 minutes.I got back on the course at 8:03 and got back into my pace again. The course was still wet but the rain had stopped (for the most part). The next 4 laps were ok; 27's to 28's and I hit 40.15 miles in 9:54:33. Becoming a Centurion was unlikely, but still remotely possible if I could hold my current pace for another 40 miles or so. But reality started to set in.
My next 4 laps saw me slide into a realistic 31-32 minute range and my stomach started to bother me; I couldn't hold down much in the way of food. I was at 12:28:03 at 50.2 miles and fading fast. But Ivo Majetic (whose 100 mile walk PR is 17:00) walked a lap with me and that helped; he gave me tons of good training advice and told me about his past Paris-Colmar walking races (stage walking race of 330 miles; you need a sub 24 hour 200 km (walking) to qualify to enter!). I had slowed to 35-36 a lap by then. Then followed a 39 minute lap where I felt sick and I had to rest. I slept for 30 minutes; Ivo wouldn't let me sleep longer. By then, I just wanted 100 km so I could get the Ulli Kamm Award; Dave Gwyn had showed us the plaque prior to the start of the race. The walk had become a race of attrition by then; Doug Brown had taken a massive break, Andy Cable was limping due to a sore knee, Beth Katcher was struggling with a recent cold and had slowed dramatically, Lawrence Block had taken a long break and only Jens Borello was still going strong, though he too had a 30 minute nap to deal with jet lag. I got up and finished a lap, but the next two laps (to get to 62 miles) were a death march. I had slowed to 57 and 51 minutes! I also threw up 5 times during those two laps. When I saw the judges,
I actually asked them to DQ me! Once when I asked, Ivo said "you can only get DQ'ed for running, and in the shape you are in, running is impossible." My 100 km split was an absolutely horrible 17:29:13. By then Becky Browning (a Houston racewalker) walked with me a bit; she also gave me a nice neck and back rub at a stop; that really helped to loosen me up. So I went down for another nap (about 2 hours). In the tent Beth was napping on the cot so I used the
chair; we were a pathetic sight! . But I was actually hungry when I woke up which was a good
sign. I got back out there and knocked off laps of 35:50, 34:45, 33:39, 32:34. Not fast, but much, much better than I was doing earlier. I actually was moving forward. I hit mile 70.3 in 21:59:13. Cheryl Harris, who was also there to judge, walked a lap with me and that took 31:05! That really helped; she was worried about slowing me down but she really helped me focus. At 23:02:53, I had time for another full lap, but since there were no partial laps I could take my
sweet time, which I did (34:12). So my result was 76.3 miles in 23:37:06. A good thing is that I got to see Jens (in the distance) finish 100 miles in 23:2X. Afterward, Dave held a nice ceremony and
Loja Vosta (another Houston ultrawalker who was preparing for a bike race) carried my bags to the car.
The race itself was fun (for the most part) as I got to meet several people. I didn't come close to
my goal, but the fact is I am not a good enough walker to make 100 miles (in 24 hours) under these conditions (the slippery course). So, had my goal been simply to amass as much mileage as possible, I would have started off with 30-31 minute laps. But I went for it and burned out early.
Report By  Centurion Scott Demaree
The 2006 edition of the Houston Ultra Event Weekend was a damp success. Most of the daylight hours on Saturday were plagued by a steady rain. Luckily, recent dry weather allowed the flood-prone Bear Creek Park to easily absorb the moisture. Aside from the rain, temperatures were moderate for the entire weekend.
The Saturday morning start of the 24-Hour, 12-Hour and 100-Kilometer was greeted with the rain.  The 24-Hour Centurion Walk. Six entrants were attempting to walk 100 miles in under 24 hours, with perhaps only two of them having a realistic chance at the goal. Jens Borello (from Denmark) has accomplished this many times in Europe but failed to finish his 2004 attempt on American soil in the Ultracentric race in Addison, Texas. American Ollie Nanyes is always a threat to reach the Centurion goal. Walking 100 miles in 24 hours requires very steady pacing and affords little leeway for problems.
In the Centurion event, four contestants started strongly, reaching the marathon in less than six hours with Jens in the lead at 5:29. By 40 miles, Beth Katcher was the surprise, cutting Jens' lead to 16 minutes. Jens reached 50 miles in 10:47, 36 minutes clear of Andy Cable. At 100-K, all of Jens' opponents had taken extended breaks or retired, leaving him a considerable lead. Steady 30 minute laps for the last hours brought Jens to his first American 100 mile finish in 23:21:14.
Sunday morning dawned sunny, and the day warmed quickly.
Joe Sellers did another fabulous job as race director this year with major input from his wife, Hope. Former race director Wes Monteith was an essential presence the whole weekend. Students from Chris Rampacek's classes at the University of Houston were a major source of help. With such great volunteers, this event will continue and will likely host another Centurion Walk event next year.
A great race report by Centurion hopeful Beth Katcher
I had a rough night prior to the race and an assortment of ailments I won't go into,
so I almost bailed. But the point of my "ultra debut" was to see what would be the hardest for me and I feel like I learned a lot.
First, the weather. Lots of rain and then lots of puddles. I didn't pack
a 2nd pair of shorts. If I had, I'm not sure I would have switched into
them after the rain since I thought I was feeling okay. But wearing wet
shorts for 16+ hours turned out to be a really, really bad idea. I have
hit new heights in terms of chafing. Same problem with the shoes. I did
have a spare pair, but the puddles were so frequent and deep that it
seemed silly to soak both pair. I only got 2 blisters, but they are
enormous ones. I drained and bandaged them once and after one lap of a
little pain I got used to the feeling and it was okay.
My first "marathon" was approximately a 5:40, so I figured I was at a
good pace. The second marathon was about 6:20. So lots of "fade." Too
much? Did I start too fast? I just don't know.
What I do know is that on the 2nd to last lap of my 2nd marathon one of
the volunteers pointed out to me that I was leaning to the left and was
probably dehydrated. So I took lots of water and headed off for another
lap. The lean got painfully worse but now I only had 8 miles left and
only 12:30 had passed. So I sat in the refreshment tent and let the
volunteers ply me with all sorts of food they thought I needed and then
I went off to do another lap. It was painful, so again I sat in the
refreshment tent for 15-20 minutes and ate and then did another 2 miles.
Each time I would walk about a quarter mile, stop to stretch my back and
rest, and then continue. I repeated this process twice more, finishing
my 100k in 16:24. Today I learned that the lean was probably an
electrolyte imbalance.
As I'm sitting in my favorite chair at the refreshment tent, Andy Cable
comes in to tell me that the lap counters think I have only done 30
laps. I have 31 on my watch so I'm off to talk to the lap counters. Sure
enough, they had missed my 11th lap. Fortunately back then I was doing
consistent lap times and it was pretty clear what had happened. So with
that squared away I can take my nap. Doug was in the chair so I was
lucky enough to get the cot. When he left I scored big — a blanket.
Then Ollie took the chair for a while. I napped for an hour or so, after
which I was freezing (a condition easily fixed as I had lots of warm
clothes still in my duffel bag and still dry from having double-bagged
before coming out to the race) but much refreshed. The lean was gone.
I've been told that there are a lot of reasons to stop and few reasons
to continue in an ultra. I must confess that having reached 100k and
knowing that 100 miles was not even a remote possibility meant that I
was perfectly okay listening to the voices that told me to stop. At one
point Dave Gwyn suggested I go for a lap with him, and later I did
another lap with another of the volunteers. I could now walk a full 2
miles without stopping to rest my back although there was still a slight
lean. But the fire to see how many laps I could do was gone. I settled
for 66 and am happy.
Today I'm still sore and my right knee isn't working very well. But the
worst of the pain is gone and (heaven help me) I honestly don't know
what I would do if another ultra opportunity came up and I was healthy
and the weather was good.
[…]
For all the number sluts, I have a nice little graph of my pace if you want it and a quicky breakdown of my performance:
1st marathon: 5:38 (just under 13mpm)
2nd marathon: 6:20 (14:30 mpm)
next 10 miles: 4:28 (!)
4 more miles, not timed
In other words, worth shooting for the Centurion status only under perfect conditions as there is no margin for error.
*******************************************
Marshall King New Centurion C61
Centurion USA 2005 Addison, Texas
The winner of the Centurion Walk division of the Ultracentric Runs which finished Sunday morning was Marshall King, 36, of Dallas. King covered 100 miles in 23:42:15 on the Greenhill
Academy 400-meter track in Addison, Texas to become U. S. Centurion #61.
Only two walkers toed the starting line alongside the participants in the 24-hour run. Using lane 5, Ollie Nanyes of Illinois and King traded the lead repeatedly in the early miles. King took the lead for good after the first hour and walked a steady pace throughout. Digestive distress sidelined Nanyes for six hours, yet he logged a total of 113,520 kilometers (70.53 miles).
Report by Centurion Marshall King
I was very excited about this race. I had my bags packed and my gear all picked out almost a week before the race. I felt like I was going to be successful and I was ready for the challenge. My family was out of town visiting relatives the two weeks before the race so that gave
me plenty of opportunity to sleep late, relax and reserve my energy for the race.
The night before the race I slept well until about 1:30, then fitfully until about 4:30, then I went ahead and got up and read (Swimming to Antarctica, a fascinating book and a perfect choice before an ultra event). Since the race didn't start until 10:00 AM (unusual for races, especially ultras) I had the luxury of taking a shower, making a latte and eating a leisurely breakfast, then going by Starbucks for a second latte on the way to the race.
I got to the race area (Greenhill School, a private school in Addison just North of Dallas, Texas) about 9:00 and met some of my ultra friends and the other walker in the event, Ollie Nanyes. Ollie is very involved in the racewalking and ultrawalking scene. He approached the Ultracentric Race Director last year and this year about co-hosting the Centurion event, so it is largely because of Ollie that we even have Centurion events in the US right now (they are more popular in Europe and Australia). Ollie introduced me to Dave Gwyn, important figure in the Texas/Houston racewalking scene, and Scott Demaree, ultrawalker and ultrarunner who became US Centurion 60 at the 2004 Ultracentric. Dave and Scott would share judging duties.
For those of you not familiar with Centurion events, it is very simple. To be a Centurion, you must walk 100 miles in 24 hours at a judged event. Judges must establish rules in advance and must ensure that all entrants adhere to the rules. In standard racewalking there are two rules (no bent knees and no loss of contact). In ultrawalking the bent knee rule is usually not observed, and that was the case with Ultracentric. Basically, you couldn't run. You had to have one foot on the ground at all times and could not run at any time.
It was overcast and cool when I arrived at the race, and right before the time to start a light rain began to fall. I put on a long sleeve running shirt and jacket and was wearing shorts. After the race started I quickly changed into my short sleeve shirt and took off the jacket.
So the RD, Scott Eppelman, told us it was time to start and we headed out to the track. We all lined up, he yelled "Go!" and it was time to start walking.
One small thing that annoyed me was that the walkers were required to walk in lane 5. This worked well in many ways because I had solitude to focus and concentrate, which is how I like to train and race. But the problem was I had done all of my time and lap estimates based on
lane 1. You might not think this was a big deal, but over the course of 100 miles it makes a big difference:
In lane 1, 100 miles is 402.336 laps
In lane 5, 100 miles is 377.062 laps
To maintain a 13:30 pace (my goal pace to allow time for breaks at the aid station, changes of clothes/gear, etc.) in lane 1, each loop needs to be 3:21.3; in lane five each loop needs to be 03:34.8.
So at first I was concerned, but once we got into the race I estimated how fast I needed to go and then stuck with my pace as much as possible.
In the early miles Ollie and I switched leads a few times, usually when one of us stopped for aid, port-a-potties, etc. After a little while I pulled ahead of Ollie and was ahead for the rest of the race.
So we went around. And around. And around. The main way I occupied myself was by calculating my splits and estimating my pace. Occasionally I would get a chance to talk to one of my friends, or one of the judges, but mostly I just walked alone in a circle. Every two hours we would change directions (they placed a little bobbing hula girl dashboard decoration on the track and you had to walk around her). Every loop I would wave at
my lap counter and he/she would wave back (over the course of the 24 hours I think I had five lap counters–what a boring job! I appreciate their help). Once or twice the walking judge would ask me my laps and then go verify the official lap count, and once or twice it was wrong.
In general I felt pretty good most of the first half. I promised my body that we would have some Advil after six hours, so that was a milestone to aim for. After I hit six hours and had two Advil I felt almost like I was starting the race again. My legs felt stronger and fresh and I was able to do some nice splits. My goal was to maintain a very even pace, and I was mostly successful. I slowed down, naturally, but I wasn't all over the map in terms of lap time. In fact one of the volunteers started calling me "Metronome Marshall" because of my even pace.
I lapped Ollie a few times after about eight hours and I could tell he was struggling. His race report confirms this. Ultracentric was his goal race for the year so I could imagine his frustration and disappointment as his chance at the Centurion slipped away. But the whole time he kept at
it, had encouraging words for me, and maintained the best possible attitude.
I decided to change to some more cushioned shoes at 50 miles. My feet were sore and I felt like I might have been getting a blister on the heel of one foot. So I stopped (the only time in the whole race that I sat down) and changed shoes and socks. It turned out that the blister was under the rough callouses on my heel, so there's not much you can do about that. I did go ahead and change shoes and socks, grabbed a bite to eat and then got back on the track. My 50 mile split was 11:21 (a PR for me) so I was in good shape. If I could keep up a decent pace I could make it!
I ate and drank regularly all day. I took one electrolyte cap per hour during the first 60% of the race; I ate Clif Shot Bloks (I highly recommend them) and at the aid station I ate peanut butter sandwiches, grilled cheese sandwiches, cookies, hot potato soup, etc. It was great having an aid station every loop because I could stop by and ask if they had a grilled cheese, for example. If they didn't, they would start one and I would walk a loop and then pick up my order and eat it while walking.
Sometime after 12 hours Ollie pulled off the track and threw up. I thought that would be the end of his race but I was wrong. He did leave the track and go to the heated locker rooms to clean up and sleep. But he would be back.
During the evening and night time hours there were lots of friends and families on the track. Husbands would walk with wives (and vice versa), brothers, sisters and fathers would come out and support their runners. It was really a great atmosphere. Some people had pitched tents in the infield and would sleep there while coming out periodically to offer encouragement and support. Many of my friends struggled with this race. Although you would think a track ultra would be easier than a trail ultra, there are several things that make a track ultra very challenging: –Mentally the track loops can be very stressful–you never make it anywhere, and every lap you can see your car, your gear, your escape
–Because there is no variation in the terrain, your body gets very fatigued of the repetitive motion. I ended up with blisters, which is somewhat unusual for me, simply because I did the exact same thing for 24 hours
–The track surface is soft but also very springy, and after a while that bounce takes its toll on your muscles
There were some awesome accomplishments. One person who had never run beyond a 50k completed 100 miles. Another good friend who had never run beyond a 50k toughed it out for 24 hours, in spite of a lot of pain and discomfort. A few people decided to do 50 miles and then call it a day (or night). As in every race there were some great accomplishments and some disappointments. But it was great to see friends and family out to support their runner. By this point I hadn't seen my wife or daughter in two weeks so I got very sad and a little lonely. I was ready to be with them again.
Back to the race. The night time was nice and cool. There were no lights on the track but there were lights on the adjacent soccer and football fields. That was nice because we had light but it wasn't bright and harsh. People came and went on the track. People took breaks, even naps, and then came back out. I'm too slow to stop so I kept moving. I know I slowed down but worked hard to maintain my racewalking form. Around and around and around I went.
Eventually the sun came up but it wasn't noticeable at first because it was grey and overcast. By this point I was very tired and I think I even took a couple of "micro-naps" on the track because I felt like I slept on my feet for brief moments.
Gradually the clouds cleared and the sun came up. Unfortunately, the wind that had been blowing all night got a lot stronger. I was really feeling tired and starting to doubt if I could keep up the pace. Turning into that wind every loop was really difficult. I had some new blisters, everything was sore and tired, and I knew I was slowing. I really wanted to finish because I knew if I didn't I would feel compelled to try again, and I really didn't want to try again. So I kept pushing as best as I could.
Then who shows up but Ollie! He was fresher and rested and ready to get in some more miles. He came up and offered me words of encouragement. I was honest with him and told him I didn't think I could make it. I'll never forget his words: "You won't have to do it alone." He got in front of me and set a great pace. I struggled to keep up with him, and that helped me keep an acceptable pace. When we turned the corner and headed into the wind Ollie would get directly in front of me and charge into the wind! It was one of the most moving moments I've experience in my racing–Ollie had no chance to become a Centurion this day but he wanted
to help me make it. It was a perfect example of sportsmanship and real class.
Eventually Ollie moved on but his presence on the track was inspirational. I had slowed significantly since yesterday morning but I was still moving. Scott Demaree, one of the judges, was helping me calculate my laps and splits and I was still in good shape to get to 100. Eventually I had 15 laps left, then 10, then five, then one! I pushed as hard as I could
(which I'm sure wasn't very fast) and did that last lap. During my last few laps lots of people in the tent were cheering and calling my name and encouraging me, and that really helped. I made the final lap and all I wanted to do was stop! I didn't feel much of anyting at this point,
but I was proud. I pulled off to a corner of the track and Scott noted my time, 23:42. He then suggested I do another lap just in case there were any lap counting errors. So for the first time in 23 hours and 42 minutes I walked like a normal person. I happened to have my cell phone in my pack so I pulled it out and called my wife to tell her the good news. If you look at the pictures (below) you can see me on my "victory lap." After that last lap Scott noted my time and then I went and sat down. I probably should have done a few more laps in the time that was left but I was so tired I didn't see the point. So I walked to the tent and had a seat. Oh, it felt SOOOOOO good to sit down.
After a few more minutes the race was over! Some people lay down on the track, friends and family joined them, kids were running around, the sun was shining. It was a great moment. Gradually everyone made it to the tent for their gear, or to visit, or to rest. Here is a picture of Scott, Ollie and me after the race. There were no official finisher prizes for Ultracentric, but Ollie had purchased medals for the Centurions and had them engraved with "100 miles in 24 hours." He put it around my neck and congratulated me. It was a nice moment. After talking a little more, I packed up my gear and headed to the car. Ollie gave me a big hug, a race volunteer carried my stuff to the car and I headed home. I only live 15 minutes from the race but I fell asleep twice in the car, once hitting the median. I need to keep this in mind next time!
************************************************************************
2004 Centurion Addison, Texas
1. Per Kleis Pedersen 108.36 Miles NEW United States Centurion C59
2. Scott Demaree 100.16 NEW United States Centurion C60
3. Ollie Nanyes 81.02
4. Jens Borello 48.96
5. Ivo Majetic 46.47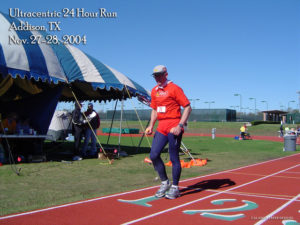 United States Centurion Per Kleis Pedersen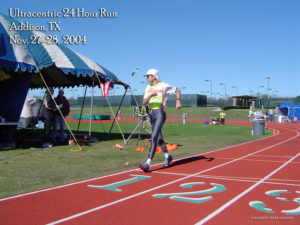 United States Centurion Ivo Majetic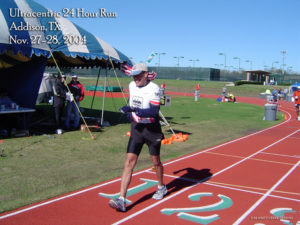 Ollie Nanyes
Report by Ollie Nanyes
The day started off as chilly, windy and sunny. Temperatures ranged from a high of 65 F (18.3 C) to a low of 41 F (5.0 C), with maximum wind of 23 mph (37 kph) with gusts to 33 mph (53 kph); the wind was to die down during the evening. Early on Ivo Majetic took a lead and looked strong and hit 50K in 5:15 . Per Kleis Pedersen was second, Jens Borello third with Ollie Nanyes and
Scott Demaree trading 4'th and 5'th place. Unfortunately Ivo suffered a knee injury and was forced to withdraw at 46.5 miles even while leading the race. Soon afterward, Jens Borello
came down sick and also had to withdraw just prior to 50 miles. Per Kleis took a massive lead and was never threatened while Scott and Ollie continued to trade places. At about 70 miles Ollie succumbed to mental weakness and left the track though he was to come back and get 11 more miles in the final 3 hours (after showering and putting on street clothes!). Scott continued
strongly while fighting off blisters. At 21 hours, 54 minutes and 41 seconds, Per Kleis became the 59'th USA Centurion whereas Scott became the 60'th at 23 hours, 22 minutes and 42
seconds. We at Centurion USA would like to thank all who helped; especially to Dave Gwyn and Lojza Vosta who drove from Houston to judge, Patty Cartwright who judged and arranged for volunteers, as well as David Gordon and Carl Mills who also served as judges. We would also like to thank Scott Eppleman and the Ultracentric race committee for holding an excellent, well organized race and for allowing us to hold Centurion USA there.
**************************************************************************
2002 San Diego Cuyamaca College, California
1. Susan Clements, 94.96 miles,
2. Eric Poulsen, 94.44 miles, [USA C-55]
3. Florence Dabney, 76.13 miles
4. Klaus Thiedmann, 58.48 miles
5. Dale Sutton, 55.49 miles [USA C-32]
6. Barrie Adsett, 54.41 miles
7. Erik Litt, 51.27 miles
8. Betsy McLaughlin, 29.39 miles
9. Gerrit de Jong, 14.47 miles
Report by Eric Poulsen
Nine walkers participated in the Centurion racewalking division (walking for 24 Hours) during the San Diego 1 Day 24 Hour/12 Hour ultra event. The event was shared with 60 other friendly and supportive ultra runners. No walkers earned the designation of Centurion certification this year. Special appreciation is extended to Race Director John Metz who again graciously opened his ultra race to walkers, provided separate distance postings during the race, T-shirts for the monitors and 1st and 2nd walking awards.
***************************************************************
2001 United States Centurion Qualifier – San Diego, California
Eric Poulsen 100 Miles United States Centurion C55
Dale Sutton 100 Miles United States Centurion C32
Pat Bivona 100 Miles NEW United States Centurion C58
Florence Dabney 85.71
Ulrich Kamm 83.96
John Fenton 77.71
Roger LeMoine 43.01
Report by Eric Poulsen
Although small, a strong field of 7 walkers competed in San Diego 1 Day – U.S. Centurion. Five of the seven starters were previous Centurions either here in the states or internationally. Three walkers successfully completed 100 Miles within 24 Hours at this race. Pat Bivona walking a
determined race, became the latest walker to join the international community of Centurions being awarded USA C-58. Dale Sutton (USA C-32) repeated earlier successes from 1980, 1982 and 1989 for a fourth time. Eric Poulsen (USA C-55) repeated for a second time. Of note, Flo Dabney having walked the NY Marathon a week earlier and attempting her first 24 Hours event walked a very strong race.
*****************************************************************
24 Hours of Golden September 23/24, 2000 Golden / Colorado / USA
Ulrich and Edeltraud Kamm
Brown, Richard 100.000 Miles New United States Centurion C49
Brown, Sandra 100.000 New United States Centurion C50
Schaerlaeckens, Ludo 100.000 New United States Centurion C51
Bhatti, Parminder 100.000 New United States Centurion C52
Green, Jill 100.000 New United States Centurion C53
Neubacher, Herbert 100.000 New United States Centurion C54
Poulsen, Eric 100.000 New United States Centurion C55
Elsenga, Christina 100.000 New United States Centurion C56
Tranter, Geoff 100.000 New United States Centurion C57
Thiedmann, Klaus 98.438
Gawle, James 96.985
Attias, Dorit 94.340
Solomos, Nico 92.738
Clements, Susan 81.132
Burns, Harry 72.489
Newell, Chuck 64.896
Verstraeten, Patrick 60.149
Fitch, Edward 42.736
DeJong, Gerrit 39.623
Young, Jerry 33.962
Fenton, John 32.075
Le Moine, Roger 26.415
McGuire, Greg 26.415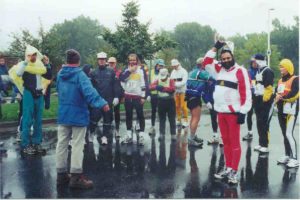 Race Start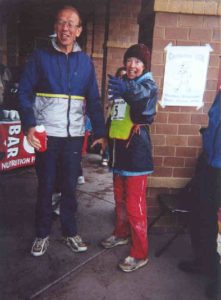 Richard & Sandra Brown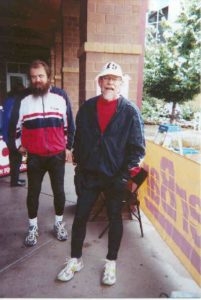 Herbert Neubacher and Eric Poulsen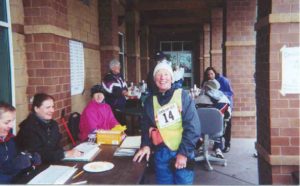 Jill Green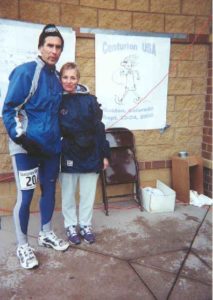 Ludo Schaerlaeckens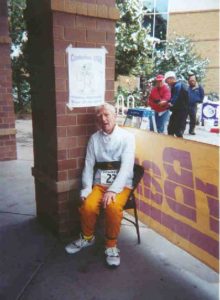 Geoff Tranter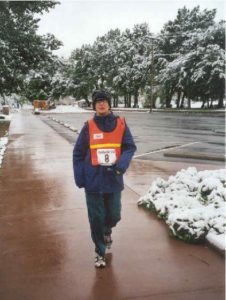 Sue Clements
Report by Sandra Brown
For many British and Continental long distance walkers, the idea of participating in a USA Centurions' event has been a dream – until now! So when UK and Continental Centurion Ulrich Kamm and his wife Traudl, now living in the town of Golden, Colorado, decided to put on a USA Centurions walk, there was worldwide interest in the event.
In the USA there is no strong tradition of long-distance racewalking, and events are very rarely held above the Olympic distance of 50kms. Just a few miles west of Golden, deeper into the Rockies mountains, is the start of the Leadville 100 miles trail race – just one of several such trail races held in mountainous areas of the USA. So the interest in endurance running and the ability to undertake such challenges is clearly there.
For Ulli and Traudl, the preparations for the race entailed many months of effort. A website kept the walking world in touch with developments, and Ulli and Traudl liaised closely with other Centurion bodies to harness their experience of promoting races.
Of the 25 walkers signed up for the race 12 were European. All were hoping to swell the ranks of the 48 USA Centurions who had qualified in races between 1967 and 1993. Among the Europeans, all experienced Centurions, were Jill Green, Sue Clements, Roger LeMoine, Richard and Sandra Brown from SWC, Parminder Bhatti, Geoff Tranter and John Fenton from Birchfield Harriers, and friends from Germany, Belgium and the Netherlands.
The excellent local support team – the race was held in aid of Golden's Seniors Programme, and the helpers were a fine example of the energy and dynamism of "grey power" – was reinforced by Vicky Brown, Dave Green and other walkers' families. All did a marvelous job providing round the clock help and encouragement.
The pre-race publicity promised "…we can almost guarantee sunshine." For several days before the race, temperatures in the 90s and dazzling blue skies had been enjoyed by Jill, Dave, the Birchfield three, and the German, Dutch and Belgian walkers who had taken the opportunity to arrange family holidays in the area. When the Browns landed at Denver airport on Thursday evening, it looked as though we had brought English weather with us. We drove our hire car through low cloud and drizzle to our hotel in Golden.
By Friday it was clear that we might be in for some seriously cold and penetrating weather, and we hurriedly invested in a better waterproof for Vicky and a warm jumper for Richard. We made a tour of some of the beautiful nature parks and old pioneer settlements in the Rockies near Golden, and the "tree-ripened peaches" and other offerings of the local shops were signs of the fine weather there had been. We were glad of the museums and galleries, and the tea shops where we sought refuge from the cold and wet.
By late on Friday, the locals were talking of snow. Was this possible? It hadn't snowed in Golden at this time of year for many decades. Like kids on Christmas day, we peeped round the curtains on race day morning – to see snowflakes falling thickly. The local shops were invaded that morning by walkers desperately looking for warm clothing: gloves (Jill and Dave got the last pairs at Foss's stores,) waterproofs, woolly hats and jumpers walked off the shelves.
It was not a case of choosing what to wear, but of wearing everything you had! Walkers wore thermals, under them vests and T shirts and over them, more vests and T shirts, followed by jumpers, jackets, waterproofs and even tent-like ponchos, hats, caps and hoods, gloves and more gloves, and on top of them plastic bags. Sandra stuffed plastic carrier bags up her front and back to increase the insulation. In the almost continuously falling snow, everything was sodden and it was hard to keep warm. The supporters were frozen too. Beneath their camouflage, walkers were barely recognisable – faces of varying hues of pink, purple and white peered out beneath layers of packaging.
The lap was just short of 2 miles long, on a pretty, largely concrete path up and down Golden Creek, with excursions off the path to left and right, to cross the teeming river (used for canoeing) and to pass by the excellent sports centre which acted as race HQ and was the location for lap counting, refreshments and other facilities.
After only a few hours, Roger LeMoine, John Fenton and Gerrit de Jong succumbed to the extreme cold and wet and had to retire. Overall, however, the retirement rate was remarkably low for any ultradistance race, and especially in those conditions. At the outset, Ulli had urged walkers not to give up, and most managed to keep going with a great sense of mutual support, conjuring a smile and murmured words of encouragement as they passed on the circuit. One American walker retreated indoors to thaw out after each lap, then reemerged to complete another lap, throughout the 24 hours.
The weather was one obvious factor affecting the results. Another was the altitude. A height of 6-7,000 ft above sea level is enough to increase the perceived effort for any given pace. Those who had arrived in the Rocky Mountains area some days before had wisely given themselves some chance of acclimatising. Richard and Sandra, arriving just before the race, noticed the frustration and discomfort of altitude's effects. Short, sharp climbs, of which there were two on each lap, felt particularly hard work.
The main factor affecting the race, however, was undoubtedly the record-breaking weather. Fewer people achieved the 100 miles goal than would have done in fine conditions, and times were slower. During spells of heavy snow, the ground became slippery, and it was quite difficult to keep upright let alone move fast forward! The organisers rallied round with sand and salt, but it took some time for the most slippery stretches of the circuit to be treated. With several hours of the race remaining on Sunday morning, the prediction was that no more than 4 or 5 walkers were likely to make the 100 miles. In fact, 9 drew on their reserves to achieve the distance and become US Centurions 49-57 – 8 Europeans and one American.
The event had a fairytale quality, with the boughs of fir trees weighed down with snow, the cars covered with thick white coats, little avalanches of snow cascading from marquees, and even the caps on heads had a topping of white stuff! No sooner had a blast on the Fire Department's klaxons announced the finish of the race than … the air began to clear, and by the time of the presentation an hour or so later, the walkers were treated to stupendous views of blue skies above snow-covered mountains.
The presentation was friendly, good humoured and generous, as the whole event had been. In the inter-nation match, Britain won thanks to the performances of Richard, Sandra, Jill, Parminder, and Geoff, all completing 100 miles. Richard and Sandra, finishing first and second, took the individual and team contests – the "Surrey Team." But the presentation was above all a celebration of everyone's contribution in the extraordinary conditions of the event.
This was Richard's 99th performance at 100 miles or more. (His 100th event was the Tooting Bec 24 hours event in October.) Sandra became the first person, man or woman, to hold all five Centurion affiliations: UK C735, Continental C131, New Zealand C4, Australian C36, and USA C50. (Jill Green and Herbert Neubacher hope to complete their set in New Zealand in 2001.)
It is unlikely that the event will be repeated in Golden. The organisers recognise that a similar number of participants – American and European – could not be expected next year They hope that the event will have revived interest in the USA and that other organisers will rise to the challenge.
For those who were there, the event was bound to be special in many ways. The freak weather conditions made it magical and memorable too.
Letter by P.S. Bhatti
Dear Ulrich and Traudl,
How are you – hope you have recovered from the small effort you put in the Centurion event. I know we walked 100 miles and became "Centurion USA". But you only managed 99.99 miles. So I am sorry that you two missed by only a small margin. Never mind, you will manage next time.
We had a lovely time in Colorado. It was golden time in GOLDEN – we enjoyed us and had a beautiful time. I still want to know, how did you manage to bring in such good weather, as I haven't seen some snow in England in last few years.
Please don't think that I haven't praised the event and not written you few lines, that we have forgotten about you and the fellow competitors, feeders, lap scorers and of course the Golden weather of Golden pleasant memories. We will remember you all and GOD willing, one day we will see each other again.
In the end I would like to thank you all for making this event success and we were proud to be part of this wonderful event. Can't say anymore, otherwise I have to come back to GOLDEN, as I do miss the wonderful place, wonderful people, wonderful weather, wonderful course, wonderful feeders, wonderful food, wonderful facilities, wonderful competitors and not to forget the two who were on the course gritting, playing music, giving encouragement, counting laps, feeding and doing other 1001 jobs. We do thank all of you from bottom of our heart, that made this event a memorable one. We do miss you. BYE BYE
P.S. Bhatti
J. Fenton
J. Tranter
PS: I STILL WANT TO KNOW WHERE WERE THEM COLD SPONGES?
24 Hours in Golden
by Eric Poulsen
Recently I was lucky enough to participate and successfully complete a Centurion event in Golden, Colorado on September 23rd and 24th, 2000. A Centurion is a race walker who completes 100 miles under 24 Hours in a judged race. Presently, five countries hold these events Australia, Netherlands, Great Britain, New Zealand, and the United States. Each country maintains a list of Centurions and assigns each a number. I became the 55th (C-55) Centurion since 1878 in the United States. Great Britain has issued over 800 numbers since 1877. Nine of 23 starters became Centurions in Golden; I was the only successful American. The other walkers included 1 from Belgium, 5 from England, 1 from the Netherlands and 1 from Germany.
The course involved 53 laps on a concrete bike path in a park along an over Clear Creek in downtown Golden, at an elevation of 5693 feet.
"Life is what happens when you're making plans." – John Lennon. This quote was brought to my attention years ago and more often than not rings very true. The averaged rainfall for Golden is 0.02 inches in September. Snow had last fallen in 1962. Driving into Golden the day before the race there was cold rain at lower elevations and unseasonable snow closed one of the passes. During the pre-race meeting at the Community Center the race director, Ulli Kamm, joked about being prepared to shovel snow and spread sand. I had packed for warm weather and was caught off guard with not enough clothes. Walking back to the hotel in the evening I popped into a mountaineering store and bought a pair of thermal tights.
The next morning the temperature continued to drop; snow flurries began. Still not completely realizing how cold it was going to get I a bought a pair of cotton gloves and a canvas cap. Everyone was scrambling to find enough warm clothes as the snow flurries and cold rain became more frequent. The Europeans and Easterners appeared better prepared.
Just before the start, one walker from Bermuda dropped out it was too cold. At 2 p.m. on Saturday 24 walkers (including 12 Americans) started the race in a cold rain. Within a few hours the rain turned to light snow which would remain on and off until the end of the race. As each hour passed my body temperature began to fall slowly from the cold. What clothes I had on were soaked and not sufficient. I was very cold and my fingertips were stinging with pain. The baseball cap froze on my head. In addition, I was drinking cold Gatorade, which I finally realized was cooling me down even more (the cold was numbing and slowing my thought processes). I began drinking warm bullion at the aid station. My only thought was what's going to happen when it really gets cold at night? I decided, incorrectly, to wait with my thermals until evening. I didn't know what to do, except to keep walking. It never entered my mind to stop.
My family dropped by about 4 hours after the start and realized that I was in real trouble. I was very depressed and concerned about not finishing. This was my lowest point. I told them not to worry and luckily my wife didn't listen to me. I've now come to realize that you need a crew sometimes to think sensibly for you. While I continued to walk, they hurried off and bought another pair of tights, a fleece top, ski gloves and a clear plastic dry cleaner bag. With their help I put on two fish net t-shirts, my wife's sweater, two jackets, the dry cleaner bag, finger-less gloves, ski gloves, a pair of thermal tights and a pair of bicycle tights. I looked like the classic bird watcher that stands in front of their closet and wonders what to wear and then decides to put on everything! After another lap I began to warm up and revive.
Although it continued to snow though the night, being warm, really helped tackle the remaining challenges of the 24 hours event. Through out the night my wife and brother-in-law would return every two to three hours to make sure I was ok. They dried my wet clothes at a Laundromat. When it closed, they used a hand dryer in the Community Center bathroom. The aid station volunteers were very helpful providing hot tea and hot soup. The race director and volunteers were always providing encouragement, shoveling snow, and spreading sand.
I was behind my planned pace. However, I didn't want to give up. For the moment I decided not to worry about the finish so much as to persevere: wanting to complete the 24 hours at whatever distance.
The course had two bridges that crossed the Clear Creek. As the night progressed ice formed which made the crossing very tricky, not to mention keeping some form of race walking technique. The race director and other volunteers spread sand and salt to ease our passage. During the night the constant cold and snow began to take it's toll. Even if you're warm it's difficult physically and psychologically to constantly walk in a snowstorm or cold rain, especially when expecting warm weather. Several walkers dropped out. Unfortunately another fell and had to be taken to the hospital with injuries and hypothermia.
Occasionally it stopped snowing and would warm up slightly. While the snow remained on the surrounding ground, the concrete bike path would clear. The night did have its good moments. We were spread out all along the course and usually every time we would pass each other we'd exchange a greeting or a few words of encouragement. When you encourage others you think positive which raises your spirits as well. Although we might feel miserable we were all on the same "island" sharing a unique experience. We were also doing what we loved: walking.
During snowstorms it was very quiet which brought peacefulness. After a few hours into an ultra you ease into a comfortable pace. There is a fluid rhythm that develops which becomes second nature. This quite peaceful feeling, in beautiful surrounds, is one of the joys of ultras. Although slipping on ice often ruefully brought me back to reality.
About 35 laps into the race the lap counters and some crews were able to predict that four of us were just on the edge of the pace required to complete 100 miles under 24 hours (others were either well ahead of pace or well behind). It was encouraging to have hope especially after the lost time caused by the cold.
The race continued to be tough. Occasionally there would be a respite from the snow. My spirits and pace would improve. Then the snow would begin again and it really would psychologically hit you like a ton of bricks. I recognized this feeling and like pain you sometimes must just acknowledge its existence and place it in a separate part of your mind, focus at the task in hand and continue on.
Towards the end, my pace was still short of completing 100 miles. I was so close. With a little over an hour remaining I had about 4 laps to complete. However, something inside of me finally clicked and I shifted mentally from just completing 24 hours to achieving my original goal. Maybe my brain finally thawed. I began to think of my training walks usually in the 9 minutes per mile range and the club's 5K sprints. I also remembered a quote from Western States 100 Miles Endurance Run in which the classic DNF, Did Not Finish is twisted into Did Nothing Fatal. Obviously, this is not to say you should literally die on the course trying, but means you can push yourself beyond what you think you're capable of accomplishing. In my case it was also shaking myself out of a stupor from the long winter night. I decided to crank it up. I'm always amazed, no matter how tired you may feel that you can really reach down and find more will power and energy to continue. So much of racing is controlling your mental out look. The race director, volunteers, and my crew were very encouraging and gave me an extra burst of support the last hour. I was able to improve my lap time to 18 minutes these last few laps. With one lap remaining I had 31 minutes left. Although I didn't let up the pace this last victory lap was pure pleasure knowing that I'd complete 100 miles under 24 hours (23:48:10). At the finish cheers and hugs from my crew, race director and volunteers were glorious and unforgettable.
Despite all of my experience I misjudged the effects of the snow and cold, something to remember for the next race. I was very lucky to have such a supportive crew, race director and volunteers. Things in my favor and in any walker's control, which allowed me to succeed: a high mileage training base, perseverance, motivation, good efficient walking technique, and experience from other races.
****************************************************************************
1993 Centurion Qualifier – Xenia, Ohio
Ivo Majetic    100 miles  18:26   NEW Centurion C48
Allen Price  100  21:03  Centurion C23
Robert Keating  100  22:01  Centurion C35
Dave Thorpe  100  23:52  Centurion C45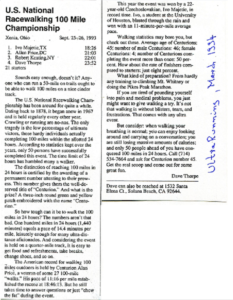 Enlarge
******************************************************************************
1991 Centurion Qualifier, Columbia, Missouri  September 21st-22nd
New Centurion C47 Niall Mandal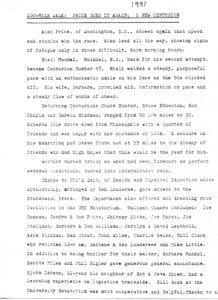 Enlarge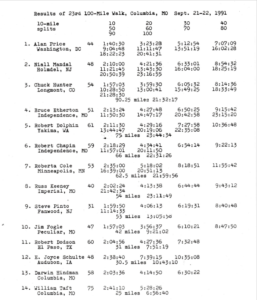 Enlarge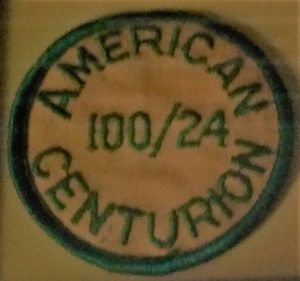 Niall Mandal's Centurion Patch from 1991.  The only one I have ever seen. Very Nice.
************************************************************************
1989 United States Centurion Qualifier
New Centurion C44 RAY FRANKS
New Centurion C45 DAVE THORPE
New Centurion C46 VEDA ROUBIDEAUX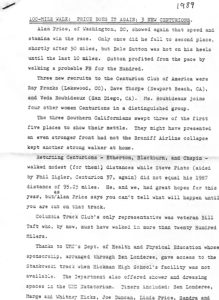 Enlarge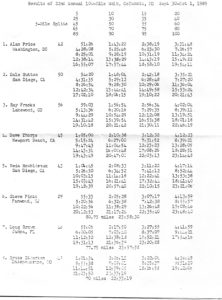 Enlarge
  Enlarge
************************************************************************
1987 Centurion Qualifier  Columbia , Missouri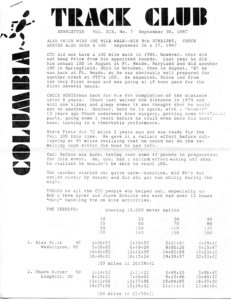 Enlarge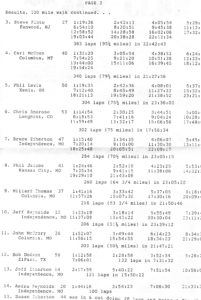 Enlarge
  Enlarge
*******************************************************************************
1985 Centurion Qualifier, Columbia, Missouri
DARWIN HINDMAN  NEW Centurion C43
  Enlarge
  Enlarge
  Enlarge
  Enlarge
"Aerobic Walking" by Casey Meyers
CH 9: THE UNKNOWN CHAMPIONS AND OTHER WALKERS
For all the runners, ex-runners, masochists, and out-of-shape folks who are skeptical about whether walking presents enough of a challenge to fool with, let me introduce you to America's premier test of endurance, the National 100-Mile Walking Championship held in late September or early October at Columbia, Missouri. It is sponsored by the Columbia Track Club and is an athletic event unique in all of the United States.
Those who complete the hundred-mile event conducted under The Athletics Congress racewalking rules in less than twenty-four hours join the most exclusive group of endurance athletes in the United States – the Centurions. So far, since the annual hundred-mile race was revived in 1967, only thirtynine walkers have become Centurions, including four women. Actually, if we go back to 1878, there are three more Centurions, making the total forty-two in the whole United States over a period of 108 years. In 1976, the Kansas City Star did a feature story on the Columbia hundred-miler and the Centurions. The Star reported that the first Centurion race was a competitive racewalking event held in New York City in May 1878. The goal in that race was to see how many miles professionals could walk in thirty-six hours and amateurs in twenty-four hours. Fourteen professionals set out at 11:00 A.M., followed by twenty amateurs at 11:00 P.M. Since the professionals were walking for money, they were not included in the list of Centurions. Three amateurs, J. Schmidt, M. J. Ennis and J. B. Gillie, became America's first official Centurions.
The New York Times reported that Ennis had worked a full day at a Harlem foundry. He returned home at 6:00 P.M., washed up, and ate supper. Although he had no training and had never walked in a race before, he went down to the track for the 11:00 P.M. amateur start and walked 103 miles in 23 hours 13 minutes and 56 seconds. J. B. Gillie, according to the Times, was a "very tall, very thin young man whose legs resembled two matches stuck in the end of a lead pencil." Nevertheless, he was the top amateur in the hundred-mile race, with a time of 21 hours and 42 seconds. The race was not held again until it was revived by the Columbia Track Club eighty-nine years later in 1967. It has been an annual event through 1985. At the conclusion of the 1985 race, it was decided to hold it every other year because of the small number of entries. It takes thirty people to conduct the race and there were only twenty-three starters each year in 1984 and 1985.
The "100" is a severe test of mental and physical endurance that starts at 1:00 P.M. on Saturday, continues through the night, and concludes twenty-four hours later on Sunday. It is held at Hickman Field, the track and football stadium for Hickman High School in Columbia. One hundred miles is 402.3 laps around the track. Perhaps as this country wakes up to the superb fitness exercise of aerobic walking and the challenging sport of racewalking, the number of Centurions will grow. The average age of the hardiest Centurion walkers may prove that walking is the exercise for the over-forty generation. Of the twenty-three entrants in 1984, for example, more than half the starters were over forty. Twice as many were over fifty as were under thirty. The first one to drop out after 122 laps was a seventeen-year-old boy. The old-timers were still going.
In its first year, 1967, a quiet sixty-year-old lumberman from Kalispell, Montana, named Larry O'Neil came to Columbia and walked the "100" in 19 hours 24 minutes and 34 seconds. This was an American outdoor record for the distance that stood for eleven years. O'Neil averaged a mile every 11.6 minutes. They grow them tough in Montana, because O'Neil completed six "100"s. The last was ten years later at the age of seventy, in 21 hours 55 minutes and 23 seconds. That was averaging just over 13 minutes per mile. At seventy, O'Neil slowed down a little, but how many people can walk even one mile at a 13-minute pace, let alone a hundred miles?
In 1971, a cloudburst left three inches of water on the track, and the event was moved to an indoor track. O'Neil's outdoor record would have surely fallen that year if it hadn't rained. Our 50K Olympic medalist, twenty-eight-year-old Larry Young, who was at his prime and preparing for the 1972 Olympics at Munich, entered the race. He set an American indoor record of 18 hours 7 minutes and 12 seconds that still stands. O'Neil's outdoor record remained intact. Young said he had never experienced any physical challenge equal to the "100" in his entire racewalking career. Over such an extended period of time, it requires enormous mental concentration and courage to force burning shins and throbbing muscles to keep moving in spite of the pain.
It is interesting to note that of the thirty-nine Centurions since 1967, more than half, twenty-three of them, were over forty when they qualified for this exclusive club. So far only six people under the age of thirty are Centurions. People come to the "100" from all over the United States, but the number of people who race is small, and the number who finish is even smaller. Only a handful of friends, husbands, wives, sweethearts, and sympathizers come to watch. Why do people compete in this form of self-inflicted physical torture? The answers are pretty much the standard kind you get at any endurance event: "Because I've done everything else," "Just because it's there," and "Thousands of people finish marathons, but only a few finish the '100,'" are some of the typical comments from the hundred-mile participants. Some have won races at various distances against other people and now just want to test themselves against the distance and the clock. As reported in the Kansas City Star, such was the case of thirty-seven-year-old Shaul Ladany of Tel Aviv, Israel. In 1973, Ladany, an Israeli reserve officer, happened to be in New York. He had won races at most other distances. He flew out to Columbia and walked the "100" in near record time of 19 hours 38 minutes and 26 seconds. He was just a little more than 13 minutes over Larry O'Neil's record. Ladany became the seventh modern-day Centurion on October 7. He barely finished the race in time to catch a jet for Tel Aviv and the October war.
The most durable of all the Centurions over forty is Leonard Busen of St. Louis, who had beaten the "100" a dozen times. The first woman Centurion was Elsie McGarvey of Kalispell, Montana, at the age of forty-nine in 1978. She repeated two years later at the tender age of fifty-one. They grow men and women tough in Kalispell, Montana. "Life begins at forty" certainly seems to apply to the walkers.
The man who finally broke Larry O'Neil's record is Alan Price of Washington, D.C., who did it in 1978 at the age of thirty-one in his very first attempt. Price has won the Columbia hundred-miler every year since, and in 1984 broke his own 1978 record and set a new American outdoor hundred-mile record that still stands at 18 hours 46 minutes and 13 seconds. He's the best hundred-miler in this country by a wide margin. The current official hundred-mile world record is held by Hector Neilson of Britain and was set in Walton, England, on October 14 and 15, 1960, in the impressive time of 17 hours 18 minutes 51 seconds. In an interview with the Columbia Daily Tribune after his 1984 record walk, Price told how he first came to Columbia in 1978. He said, "I heard about the race in Columbia in an ad in Runners' World along with a feature on one of the guys who won a lot. They had some times in there, and I said, 'I can do this.' So I told everyone in D.C. I was going to Columbia and set a record. I had a hard time getting the money for the trip, but I always knew I would go. I was kind of the dark horse figuratively and literally."
Alan Price was referring to his race by that remark. He is a black in a sport that does not seem to attract blacks. Black racewalkers are about as common as black hockey goalies. He had never walked in a race longer than 50 miles prior to 1978. Price was actually a "closet walker," and he said he felt funny practicing in the daylight, so he would go to the track at Bennicker Junior High in Washington, D.C., after dark and practice in the pitch black. Here's a case where the Russian athletic understanding is clearly ahead of ours. Racewalkers don't have to hide or be subjected to senseless ridicule in Russia. Alan Price is some tough athlete and has reason to be proud of his accomplishments. He told the Columbia reporter, "People who don't do this think it's easy. That's because they haven't tried it yet." Price enjoys telling about entering a 100-mile race in San Diego in 1982 where the promoters wanted a "name athlete" for a big draw. They got Don Choi, who held the American distance record for a six-day run of more than 450 miles. The race promoters figured walking a 100-miler would be a piece of cake for him. Price blew him away in 19 hours 35 minutes and 44 seconds. "Well, he finished it," Price said, "but I'm telling you, he was hurting pretty bad. I asked him which he thought was harder, a sixday run or a hundred-mile walk. He said, 'No doubt about it, a hundred-miler!' Alan Price liked having the best in another sport invade his turf and come away shaking his head. Alan Price has completed fifteen hundred-milers through 1984, more than any other person in the United States.
In 1984, at the age of thirty-seven, Price, who is only five feet seven inches tall, weighed 138 pounds at the start of his record-setting performance. He weighed 127 pounds at the finish. During the race, he consumed a quarter of a large watermelon, half a gallon of apple juice, and a pint of water. Alan Price has not worked steadily since 1979. There are no fat endorsement contracts from shoe companies and clothing manufacturers for racewalkers; consequently, they have to cut corners wherever possible to save money. Price set his American record wearing a $1.90 pair of discounted Foot Locker shoes he picked out of a pile on a clearance sale table. Such is the humble life of a racewalker in the United States—even a champion.
The Boston Marathon has the tradition; the New York and Chicago marathons have the big money; but the thirty-nine men and women Centurions have exclusivity. It takes a special kind of person to do the "100." For those who think there aren't any serious athletic challenges for the exercise walkers, join the Centurions—if you can. People just starting to walk can go as far and as fast as their determination and discipline will take them. By slowly working yourself into shape and picking up your speed to the aerobic level, you will have mastered the perfect fitness exercise, which you can do the rest of your life. And if the competitive bug bites you, there are races all over the country, and the granddaddy of them all, the hundred miler, awaits you at Columbia, Missouri.
Jack Mortland estimates there are over a thousand Centurions in England. Other European countries also have larger numbers of people who do the "100." The soft, sedentary over-forty generation and the young people in the United States have yet to discover the ultimate challenge. After you have gotten your twenty-year-old physique and energy level back by eating smart and walking aerobically, you may feel so fit and feisty that competition racewalking or becoming a Centurion is just the challenge you need. The real satisfaction, however, comes from feeling so good that nothing seems out of reach. How long has it been since you've felt that way?
*******************************************************************************
1983 United States Centurion Qualifier
New Centurion C42  M   CHRIS CUSTER
 Enlarge
  Enlarge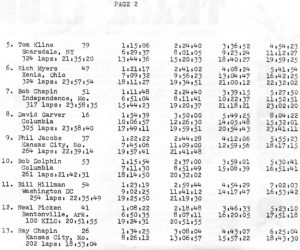 Enlarge
  Enlarge
*****************************************************************************
1982 United States Centurion Qualifier San Diego, California. November 20 -21
New Centurion C38 JOHN KELLY
New Centurion C39 BEVERLY LaVECK
New Centurion C40  TOM DOOLEY
New Centurion C41 LIZ KEMP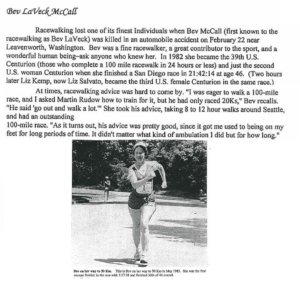 Enlarge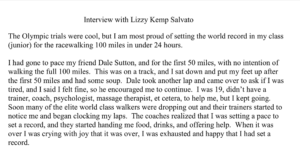 Enlarge
***************************************************************************
1982 Centurion Qualifier Columbia, Missouri
  Enlarge
  Enlarge
  Enlarge
  Enlarge
  Enlarge
******************************************************************************
1981 Centurion Qualifier
New Centurion C34 MARIO ESCOBEDO at E Cojob, California. February 28th.
 New Centurion C35  BOB KEATING  at  Methuen, Mass. May 2-3.
New Centurion C36 BRUCE ETHERTON
New Centurion C37 PHIL SIGLER
  Enlarge
 Enlarge
  Enlarge
  Enlarge
  Enlarge
  Enlarge
 Enlarge
  Enlarge
***************************************************************************
1980 Centurion Qualifier in San Diego, California
New Centurion C31 JONATHAN REM
New Centurion C32 DALE SUTTON
New Centurion C33 ROBERT MARSHALL
  Enlarge
  Enlarge
 Enlarge
  Enlarge
  Enlarge
  Enlarge
**********************************************************************
1979 Centurion Qualifier at San Diego, California
New Centurion C26 DAVE HUGENER
New Centurion C27 DOUG REEVES
1979 Centurion Qualifier at Columbia, Missouri
New Centurion C28 CHRIS AMOROSO
New Centurion C29 GERARD HERRMAN
New Centurion C30 GEORGE LATTARULO
  Enlarge
 Enlarge
  Enlarge
  Enlarge
  Enlarge
  Enlarge
*********************************************************************
1978 Centurion Qualifier
New Centurion C23 ALAN PRICE
New Centurion C24 ELSIE McGARVEY
New Centurion C25 ALBERT VAN DYKE
  Enlarge
  Enlarge
  Enlarge
Centurion JACK BLACKBURN C19 behind Alan.
*********************************************************************
1977 Centurion Qualifier
New Centurion PAUL HENDRICKS C20
New Centurion JERRY BROWN C21
New Centurion RICHARD MYERS C22
Enlarge
 Enlarge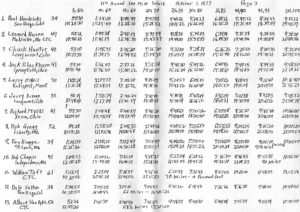 Enlarge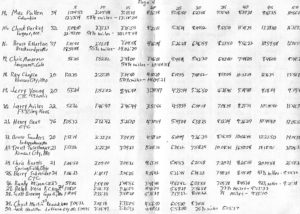 Enlarge
*********************************************************************
1976 Centurion Qualifier.
New Centurion AUGIE HIRT C18
New Centurion JACK BLACKBURN C19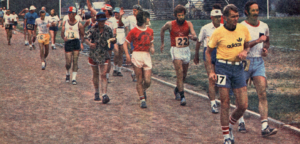 Enlarge
  Enlarge
  Enlarge
  Enlarge
  Enlarge
  Enlarge
  Enlarge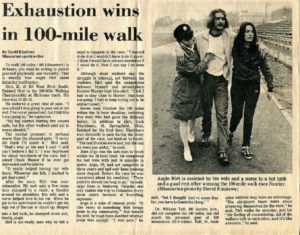 Enlarge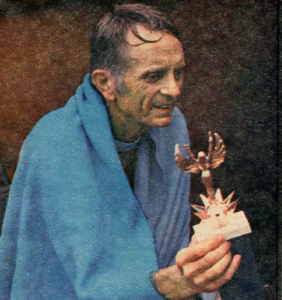 Centurion Bob Gragg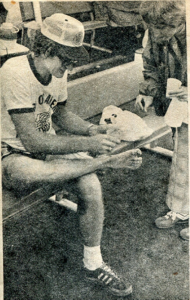 Centurion Leonard Busen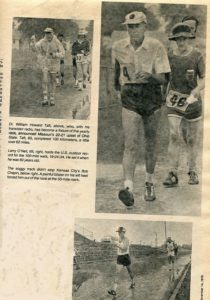 Enlarge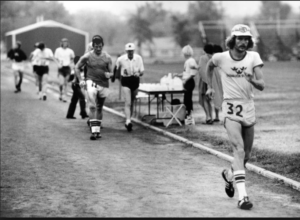 Augie Hirt
Long day's journey into night
SUN UP AND SUN DOWN, THE 100-MILE CHAMPIONSHIP WALK WAS AGONIZING
By  Anita Verschoth
Around noon, with the race still an hour away, the walkers began to arrive at the red crushed-shale track of Hickman High School in Columbia, Mo. They carried blankets and extra clothing: sweatsuits, hats, shoes. Some brought oilskin ponchos because rain had been forecast. Before getting into their socks and track shoes, sneakers or Hush Puppies, they rubbed Vaseline between their toes to prevent chafing and put moleskin on areas likely to get sore or blistered. Some taped the gap between shoe rim and sock or slipped on spats cut from old stockings to keep the small sharp shale pebbles out of their shoes.
Wives and children, the only spectators on hand, set up a couple of tents and a table to serve as a feeding station. They produced sandwiches, honey, coffee, unfizzed Coke and special energy drinks like BP (not a fuel, but Body Punch) and E.R.G. (Electrolyte Replacement Glucose, a "Gookinaid"). Six judges sat down under a canopy, ready to record and announce everybody's quarter-mile splits.
There were only 30 walkers at the start on that last Saturday in September (as compared to 2,180 runners in this year's Boston Marathon), and only a few of them could realistically expect to finish the race, for this was no weekend stroll. The distance was 100 miles, a staggering 400 laps around the track, to be completed within 24 hours. The contestants would have to walk at least at a 14-minutes-per-mile pace, which would allow 40 minutes for "pit stops" in the restrooms at the top of the stands, clothing changes in the cold of the night and perhaps a brief nap in a tent.
This was the 10th National 100-Mile Walking Championship, which is billed as the toughest track event in the U.S.—Race Director Joe Duncan calls it "the ultimate madness." Columbia was a fitting site. Besides being the home of the giant killer football team of the University of Missouri, it is a sanctuary for some 20 serious race walkers. Larry Young, twice an Olympic medal winner, lives there; so does Augie Hirt, who ranks second to Young in the 50 kilometers and works as an accountant for a CPA. Hirt returned from the 50 km. World Championship in Sweden, where he finished 27th, just in time to enter this year's 100.
It was another Columbia resident, Bill Clark, who conceived the 100-mile championship in 1966. He had been inspired by the Centurion Club of Great Britain and its 100-mile walks that had been going on since the turn of the century and by the feats of three American amateur walkers who in 1878 completed a 100-miler within 24 hours on an indoor track in New York—the country's first centurions. But when Clark sent out invitations in 1966, nobody came.
In the fall of 1967, however, five competitors did show up, and off they went. After 64½ miles, 60-year-old Larry O'Neil was the only survivor and on his way to what still stands as the record—19:24:34—churning along at an incredible 11:40 pace. Only Larry Young has gone faster, but his record of 18:07:12 was set indoors in 1971 when the Hickman track was flooded by rain.
O'Neil, now 69, revered as the dean of the event, was back for his ninth try after having completed four of the previous eight. A trim, bright-eyed man, he trains eight miles a day in the mountains near his lumber business in Kalispell, Mont., wearing shorts whether it shines or snows. He will don a sweatsuit only when the temperature drops below zero. "I was very happy when I finished my first race," he said, "even though my feet were covered with a bloody scab from the crushed shale on the track and all my toenails had fallen off."
John Argo, a little 62-year-old timber feller from Mattawa, Ontario, a town of 2,600, was also back. He had entered the Columbia walk in 1970 and 1973 and the British one in 1971 and finished all three. He is also renowned for having paddled Canada's three-day, 122-mile canoe race from Ville Marie to North Bay six times and for winning the snowshoe competition at the North Bay Winter Carnival nine years in a row. In 1970 fie traveled 43 miles on snowshoes to the Winter Carnival because its organizers, who viewed him as a special attraction, had promised to pay his way to the Columbia walk if he made it.
The pre-race favorite was Chuck Hunter, the defending champion, a 39-year-old air traffic controller from Longmont, Colo. He had entered three previous races and gone the distance each time. Built like a football player, he is often asked whether his size—6′, 180 pounds—is not a handicap. "It's just like a Clydesdale horse against a quarter horse," he likes to answer. "You get more work out of the former, but in shorter distances it is an advantage to be the latter." The work Hunter does stomping along the hilly roads near his home amounts to 5,000 miles a year.
Another of the old regulars was Chris Clegg, a 59-year-old security doorman for a Los Angeles department store and still very much an Englishman though he became a U.S. citizen 22 years ago. He had walked 100-milers in England, at Columbia and in Australia. Others in the field included an executive of Hallmark Cards in Kansas City, a professor of anthropology at the University of Missouri and his colleague, a professor of political science, a vegetarian from Springfield, Mass. who is notorious for a fast shuffle that fills other walkers' shoes with pebbles, and a prisoner from the Fordland Honor Camp—Albert Van Dyke—who is serving a sentence for second-degree murder. Van Dyke arrived with a broken jaw. "Showed off doing calisthenics," he said.
To keep youngsters out of the race—in the past they would start it as a lark—the age limit is 19, but the most serious competitors are to be found in the over-40 bracket. "At that age," explained the anthropology professor, Rob Spier, "man should be mature enough to handle boredom. The older competitors in this race seem better disciplined than the younger ones." Augie Hirt, who is only 25, said, "This race is not important to us. We are race walkers, not survivors." Three years ago Hirt entered the race, and after 57 miles he had to be carried off the track. Last year he completed 62¼ miles (100 kilometers). This year he said, "I wish I could finish it once, so that I would never have to try it again." How do they manage to pass the time? Humming a song, perhaps, but mainly counting laps, keeping track of their splits. "After a while," said one walker, "the mind can't handle more than that anyway."
The race was a jaunty affair as long as daylight lasted. The walkers chatted; one listened to the Missouri-Ohio State game on a transistor radio. Enjoying his brief freedom, Van Dyke led the first mile in 9:48, then Hunter took over. His first 25 miles were the fastest ever recorded on the track—4:26:13. But Hirt, who had set out at an 11-minute pace and had kept an eye on Hunter, caught him after 48 miles.
By that time the race was becoming a nightmare. Heavy showers had made the inside lane a muddy river and the back-stretch a lake district. The walkers were forced to weave around the deeper puddles, covering added distance each lap. On the dimly lit track Hunter and Hirt battled for the lead, and Hunter sprinted to a personal best for 50 miles. But eventually the quarter horse pulled away from the Clydesdale.
In the early-morning hours Hirt lapped Hunter with 20 miles to go, and Hunter told him, "These are going to be the hardest 20 miles of your life."
"They were," said Hirt later. Soon he had to shorten his stride because of a twinge in his left hamstring. "At one point," he said, "my body was hurting in six places. It was trying to convince my head that I should stop."
The rain had claimed its victims. O'Neil developed a blister on his left foot and had to retire after 64½ miles, 13½ hours. Clegg, the security man, stopped to rest after 75 miles and got so chilled in his wet clothes that he was unable to start again. When dawn finally came, gray and unfriendly, only seven of the 30 starters were still going for the 100-mile mark.
Hirt, now leading the vigorous Hunter by a mile, resembled a suffering Biblical figure. His eyes were half closed, his feet dragging. His wife Joan walked with him for a few laps, but he could not talk. Leonard Busen, a St. Louis newspaperman, was in third place, and next behind him was Jack Blackburn, a 40-year-old counselor at a drug-control center in Springfield, Ohio, a newcomer to the event. Blackburn had tried out for four Olympics—without success. "I think today I'm going to make the team," he said, walking on like an arthritic old man.
Hirt won in 19:55:16, beating Hunter by 10½ minutes but missing O'Neil's record by half an hour. "I don't believe I did it," he mumbled, sinking onto a bench. When Joan and a nurse led him away, he began to cry softly. Each of the seven still walking at dawn finished the 100 miles in the allotted 24 hours.
"You feel like a baby," said Blackburn after he crossed the line. "You ache so much that you have to show it. You just can't be manly."
Two days later Augie Hirt was feeling much better. In fact, he was able to walk again.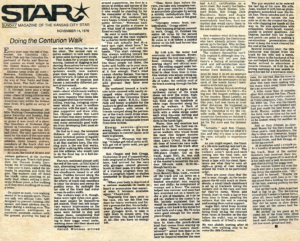 Enlarge
**********************************************************************
1975 Centurion Qualifier
New Centurion ROB SPIER C16
New Centurion BOB GRAGG C17
  Enlarge
 Enlarge
  Enlarge
 Enlarge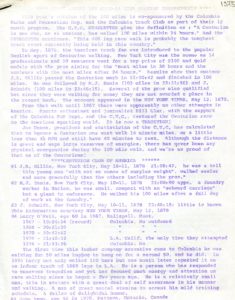 Enlarge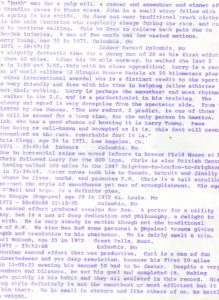 Enlarge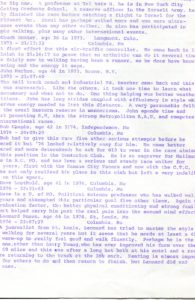 Enlarge
  Enlarge
********************************************************************
1974 Centurion Qualifier
New Centurion Bob Chapin C13
New Centurion David Leuthold C14
New Centurion Leonard Busen C15
  Enlarge
  Enlarge
  Enlarge
  Enlarge
  Enlarge
  Enlarge
  Enlarge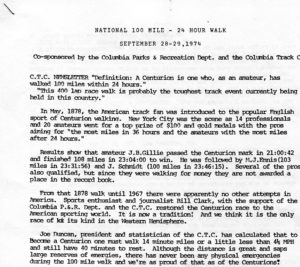 Enlarge
  Enlarge
  Enlarge
 Enlarge
  Enlarge
**********************************************************************
1973 Centurion Qualifier
New Centurion Shaul Ladany C10
New Centurion Chuck Hunter C11
New Centurion John Markon C12
  Enlarge
  Enlarge
 Enlarge
  Enlarge
 Enlarge
********************************************************************
1972 Centurion Qualifier
New Centurion Ben Knoppe C8
New Centurion Carl McCoun C9
  Enlarge
 Enlarge
  Enlarge
 Enlarge
  Enlarge
**********************************************************************
1971 Centurion Qualifier
New Centurion Larry Young  C6
New Centurion Chris Clegg  C7
  Enlarge
 Enlarge
  Enlarge
 Enlarge
  Enlarge
 Enlarge
  Enlarge
  Enlarge
 Enlarge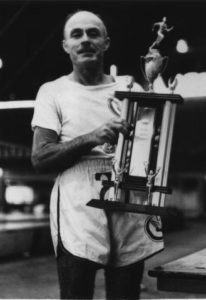 Chris Clegg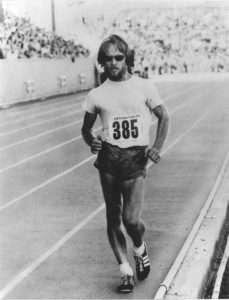 Larry Young
*******************************************************************************
1970 Centurion Qualifier
New Centurion John Argo C5
 Enlarge
  Enlarge
  Enlarge
 Enlarge
  Enlarge
**************************************************************
1969 Centurion Qualifier
Enlarge
 Enlarge
 Enlarge
**********************************************************
Second Annual 100 Mile Walk 1968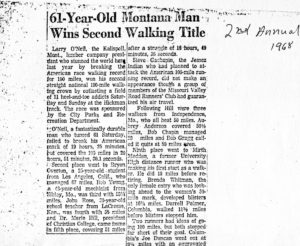 Enlarge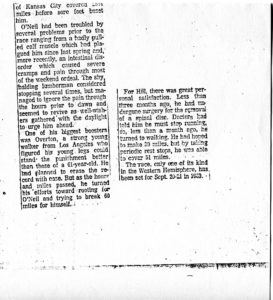 Enlarge
******************************************************************
First Annual 100 Mile Walk 1967
Larry O'Neil 19:24:52  United States Centurion C4
Bob Young 69.5 Miles
Shaul Ladany 50 miles
Darrell Palmer 30 miles
Bob Reese 14 Miles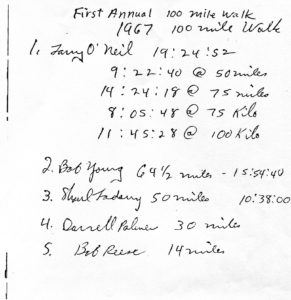 ***********************************************************************
Centurion Race report 1878